11.15.22
Fayette Community Foundation 2022 Grant Cycle Recipients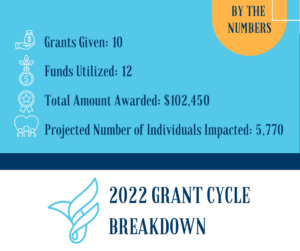 Fayette Community Foundation is pleased to announce the grant recipients of the 2022 Grant Cycle. A total of $102,450 will be granted back into our community to 10 nonprofit organizations and is projected to benefit over 5,000 Fayette County residents! The grantees of the 2022 Grant Cycle are as follows:
The Shelter, Inc.

is awarded $10,000 to help pay for hotel stays, transportation expenses, fees to receive birth certificates and other documents, and other miscellaneous expenses.

Alquina Blue Arrows Park Inc.

is awarded $30,000 to support the revitalization of the basketball court.

Fayette County Community Voices

is awarded $14,000 for the 2023 Outdoor Education Program at Mary Gray Bird Sanctuary.

Neighborhood Health Center, Fayette County Medical Center

is awarded $5,850 for remote patient monitoring kits for high risk patients in Fayette County.

Firefly Children & Family Alliance

is awarded $5,000 for emergency aid for Fayette County Families in need.

Connection Cafe

is awarded $8,000 as the fiscal sponsor for

Earned Never Given

to purchase new equipment, key fob entry technology, and computer software.

Indiana Audubon Society

is awarded $4,100 for interpretive nature trail signage at the Mary Gray Bird Sanctuary.

Interlocal Community Action Program, Inc.

is awarded $10,000 to help replace the roof on the Fayette County Service Hub building.

Grandview Elementary

is awarded $4,500 to purchase an Inch Worm book vending machine.

Hope Center

is awarded $10,000 for a 10 week Leaders in Training class.
The 2022 Grant Cycle was funded by the following 12 endowments: Community IMPACT Endowment, Community Education Endowment, US Bank Community Education Endowment, Kenneth & Martha Caldwell Agriculture Science Endowment, Gene and Jane Guttman Early Childhood Literacy Endowment, Barbara Bowden Early Childhood Development Endowment, Bill & Nancy Wilson Community Enhancement Endowment, Wissel Homeless Endowment, Thiebaud Needy Endowment, Battered & Abused Women Endowment, Feeding Children Successes Endowment, and Country Club Youth Recreation Endowment.
Are you a local 501(c)3 organization looking for support to lift up a new, innovative program or project aimed at improving the lives of Fayette County residents? Keep an eye on Fayette Community Foundation's website for information on future grant cycles at https://givetofcf.com/grants/get-a-grant/!