08.08.23
Better Together: How We're Doing – A Mid-Year Update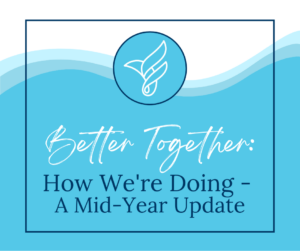 In December of 2022, we announced 2023 Goals for the Fayette Community Foundation. In the spirit of transparency, we want to share our progress with you now that we're halfway through the year. These goals serve as milestones that keep us accountable and make sure we're effectively serving Fayette County. Plus, you may not know what all we do or why we do it – beyond requests to contribute to or start new endowments.
The Fayette Community Foundation connects donors and nonprofit agencies to improve the quality of life in our community. We help strengthen nonprofit agencies to better respond to community needs with financial support and capacity-building programs by providing grants from our unrestricted and restricted funds, as well as from donor-advised funds (i.e., people who set up an endowment and provide flexible grantmaking recommendations annually). To support this, the Foundation made commitments to:
Continue to meet with donors and supporters. We hosted our first Open House in May in an effort to connect with our donors and the community. Over 50 people attended – including donors, community partners, regional peers, and our Board Members. We're pleased to add this to our growing tradition of in-person events. Keep your eyes open for an announcement later this Fall on our Candy Canes & Cocoa event in December!
Develop more donor engagement and stewardship programs. We have established new methods to ensure we are thanking our donors in more personal and meaningful ways going forward. We want them to know how much we appreciate their support for Fayette County.
Support professional development in the field of philanthropy. Abi Roszell attended a virtual conference for nonprofit marketing earlier this year and Becky Turney attended the Indiana Philanthropic Alliance's Foundation Bootcamp. This education will help bring new ideas and fresh perspectives on philanthropy in Fayette County and we are eager to put them into practice.
Increase support for our local nonprofits. We continue to host our Nonprofit Meet-Ups for nonprofit leaders to connect, network, and learn from each other. You can find meeting notes on our website under the "News" tab.
In addition to our stated goals, we've also had some new developments that have made us proud:
Purdue's President Mung Chiang visited Fayette County in June, and the Fayette Community Foundation was honored to provide space for the Fayette County Purdue Cooperative Extension office to host him and his team.
READI 2.0 is launching, and the Foundation is working alongside Dan Parker (President of Fayette County's Economic Development Group) to lead our community's work in projects that enhance our quality of life, quality of place, and quality of opportunity.
The Fayette Community Foundation received funding from the Lilly Endowment, Inc. GIFT VII initiative in 2020 for an implementation grant. The GIFT VII initiative was completed this year, culminating with an $85,000 grant to the City of Connersville (this is called "regranting" when funds move from one organization through a Community Foundation to its intended recipient organization). The activities of this grant support (and intentionally focus on) establishing healthy food environments in Fayette County. This includes providing a multi-year grant to Discover Connersville to empower the growth of the Fayette County Farmers' Market and providing support to the development of Market Street Plaza as the future home of the Farmers' Market.
We're also pleased to see things progressing with our current Grant Cycle that we announced earlier this Spring. We approved ten Letters of Intent, which allowed those organizations to proceed with their applications. The Grant Committee will begin reviewing applications at the end of this month and announcements about grant recipients will be made in late August.
Some of the items we mentioned are a big deal – READI 2.0, grantmaking and regranting, taking on continuing education opportunities – but it's important for the community to know that there are countless little things that happen at the Fayette Community Foundation as well. These less-flashy milestones and activities taken on by our staff, our Board of Directors, and our community leaders keep Fayette County running smoothly and we're grateful for this. We may not be able to list them all, but everything done at the Foundation is essential to further our mission to inspire a spirit of philanthropy and leadership in Fayette County to enhance the quality of life. Every donation and each volunteer is priceless to us and we're working hard to get better at making our gratitude known.
Would you like to learn more about what we do, what's planned for the rest of 2023, or even talk about establishing your own family endowment in Fayette County? Let's talk! Call the Foundation at (765) 827-9966 or email info@givetofcf.com.
– Fayette Community Foundation