10.12.20
New Foundation Director Named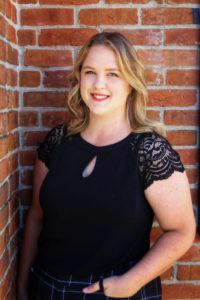 The Fayette Community Foundation has announced that Alexandra Pflug has been confirmed as the organization's new Executive Director. Current director Anna Dungan is retiring on December 4, 2020, after two decades with the organization. The announcement follows a search and selection process undertaken after Dungan announced her retirement earlier this year.
"It is with great confidence that we welcome Alexandra to the Community Foundation. Alexandra's work with Earlham College and Miami University will make for an easy transition for her into her new role. She is well-suited to guide the organization forward," Board President Colin Judd stated. "I am excited to engage the donors, staff, and board members to build upon the momentum and positive impact Anna has created."
Pflug's resume includes developing and implementing strategies for donor stewardship at Earlham College and engaging alumni in mentoring programs. Pflug is a Connersville High School graduate, earned a Bachelor of Arts from Purdue University, and a Masters of Education in 2019 from Miami University.
Founded in 1986, the Fayette Community Foundation, a tax exempt organization, continues to serve and meet our original mission, inspire a spirit of philanthropy. The Community Foundation manages more than $12 million in assets, annually awards more than $300,000 in grants, and holds more than 175 funds. The Community Foundation is located at 521 Central Ave. For more information about the Foundation please call (765) 827-9966 or email info@givetofcf.com.