04.27.23
April 2023 Nonprofit Meetup Notes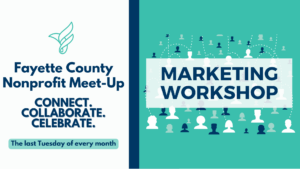 The April nonprofit meet-up was a marketing workshop to help local nonprofit leaders with their current marketing strategies and/or specific marketing pieces that they wanted help creating. Attendees were also able to learn more about the tools the Foundation uses for our marketing and got some tips for using those tools effectively.
Foundation staff gave a short presentation about marketing which you can see if you click here! Staff members then walked around to each attendee to talk to them about their individual idea. After the workshop there was a lot of conversation around Canva so FCF staff did a short demonstration on what Canva can do.
2023 Meetup Schedule
This is a tentative schedule for the 2023 Nonprofit Meetup topics and is subject to change.