04.27.23
Better Together: Spring Open House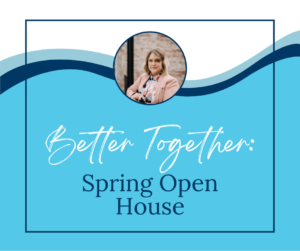 As the Fayette Community Foundation, part of our mission is to connect donors and nonprofit agencies to improve the quality of life in our community. We want to truly understand how best to support Fayette County and to stay connected with our community partners. We like to think of ourselves as unofficial "charitable matchmakers." Sometimes, we get the chance to do those things and make it fun at the same time. 
That said, save the date for Monday, May 15th. The Fayette Community Foundation is hosting an Open House for donors and community partners from 11:00 am to 4:00 p.m. This is your chance to meet our team, connect with our Board of Directors, and network with others in the community who care about improving the quality of life in Fayette County. Donors will have the opportunity to meet the community partners their generosity supports, and our community partners will have the chance to collaborate with each other and donors.
Here's who should attend the Fayette Community Open House:
Donors:

We always love a chance to meet our donors! Come see us, get an in-person "thank you," and get to know the newer faces on our team. Plus, you'll get to speak with our community partners to learn about their work. 

Families of Fund Founders:

It may have been a number of years since your family member bequeathed the initial gift that started a fund with the Fayette Community Foundation. Come visit us to see what has been accomplished thanks to the generosity of your loved one. 

Community Partners:

You know how much we love to convene the community! Now is your time to meet with other organizations, strengthen bonds, and network with donors. 

Future Donors:

Are you looking for a good cause to support? Are you curious about what it takes to make a donation or set up an endowment? Do you want to learn how your gift can impact the community? The Fayette Community Foundation's Open House is the perfect chance for you to see things from both perspectives. You'll get to network with our community partners to learn about what they do and how you can help. You may even leave with a new passion!
Volunteers (Our current and past committee and Board members):

You are someone who enjoys giving your time and energy to organizations and causes you care about. The Foundation has been the lucky recipient of your volunteerism as a member of the Board of Directors or as a scholarship or grant committee participant. We welcome you to join us at the Open House to celebrate the impact of your efforts and mingle with those whose work you may have had a chance to positively impact. 
You, too!:

Not part of our donor pool or a volunteer but curious about who we are? No problem! You're welcome to join us too. You can meet our team and learn more about what the Foundation does for Fayette County.
I truly hope you take the time to come visit and get to know our team. Snacks and drinks will be provided – plus there's a chance to win a door prize! Join us from 11-4 on Monday, May 15, 2023 in the Foundation Board Room at 521 Central Avenue, Suite B, in Connersville. 
Alexandra Pflug, Executive Director and CEO, Fayette Community Foundation