05.30.23
Better Together: 2023 Grant Cycle Open – Apply Now!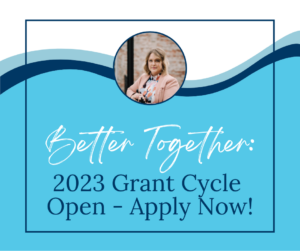 We're getting ready to launch the 2023 Grant Cycle which will culminate in us awarding grants to support Fayette County – and that could include your organization. 
Part of our work is connecting donors and nonprofit agencies to improve the quality of life in our community. Our donors want to help Fayette County and provide financial support where it's most needed, which is why we run grantmaking cycles. This means the grants we provide stay flexible: they are dictated by community needs. In a grant cycle, nonprofit organizations describe their need and how it will impact the community, and a team of evaluators (our Grant Committee) review and recommend applications to our Board of Directors for approval. 
Eligibility
The Fayette Community Foundation can only accept grant applications from 501(c)(3) tax-exempt nonprofit entities, units of government, municipalities, and schools. Organizations ineligible to apply on their own, such as service clubs or neighborhood associations, may partner with one or more eligible organizations to propose collaborative programs. Any group applying must have a physical location within the county and/or intentionally provide services and support to Fayette County as part of their defined service area. 
All applications must fall within one of our focus areas: Community Betterment, Health & Human Services, and/or Education. Our grantmaking policies don't allow us to fund things like annual operating costs for organizations, repeat funding of projects, faith-based projects, operating deficits, etc. For a full list of eligibility requirements, please visit givetofcf.com/grants/funding-areas.
Steps to Take
You've probably filled out applications throughout your life, so this may be second nature to you – just follow the process and be precise with deadlines. If you're new to these kinds of applications, we can help. Skip down to the Our Timeline section below for our office hours. You can come in and we'll walk you through it.
We divide the initial process into four steps:
Review your organization's and request's eligibility.

If you're not certain, give us a call to discuss or stop by our office hours to explore your options. If your organization is ineligible to apply on its own, you may consider partnering with an eligible organization to propose a collaborative program. 

Review the timeline.

Make sure you meet all the deadlines. Keeping a strict timeline respects our Grant Committee's time and ensures the application process is fair. 

Read the application software user guide.

We use a tool called GOapply to manage grant applications. We've included a link on our website so you can familiarize yourself with creating an account, starting a letter of intent, and submitting your final application. 

Fill out a Letter of Intent and Application.

This includes things like having your Tax ID or Business Number handy and ensuring your organization's profile is accurate. Be sure to review this entire process in advance of the deadline so you have time to assemble all the details and documentation that you need. You can find the link to the LOI here.
Our Timeline
Our 2023 Grant Cycle is officially open now. You can stop in the office or call us on June 6th or June 8th for our office hours to learn more about the process, review eligibility, and get started. 
Monday, June 12: Letter of Intent Due at 11:59 AM

Friday, June 16: Applications Open (for applicants that have been approved to apply)

Monday, July 3: Applications Due at 11:59 AM

July 26th- Aug 7th: Follow-Ups (applicants might be invited to a meeting for clarifying questions)

Friday, August 18: Grantseekers Notified
Between those dates, rest assured that our Grant Committee will be hard at work reviewing and scoring applications. We're incredibly grateful for their support in this process. 
Tips for Success
We want you to put your organization's best foot forward. There are  many online resources with tips and tricks to help you succeed, but we've assembled our top four ideas that we think will help the most: 
Talk to us first.

We can tell you if grant applications similar to your proposal have been funded in the past, if you're eligible, and other information relevant to your idea. 

Know the timeline.

The grant cycle will last about three months, so it isn't ideal for projects that urgently need funds. Grant funds also cannot be used retroactively. 

Explain in detail.

Assume that the Grant Committee knows nothing about your organization, the need you serve in the community, and why it's so important. 

Use facts and specifics.

Support your case with data and refrain from voicing opinions. For example, writing, "Connersville needs a drive-in movie theater," makes less of a case than, "The Center for Movie Theater Neediness cites Connersville as the number two county in Indiana in need of a drive-in movie theater."
I'm looking forward to seeing all of the great applications we'll receive this grant cycle and funding some incredible work within our community. If you have any questions, reach out to us at (765) 827-9966 or email info@givetofcf.com. 
-Alexandra Pflug, Executive Director and CEO, Fayette Community Foundation