04.14.21
Fayette Community Foundation's Involvement in the Early Learning Coalition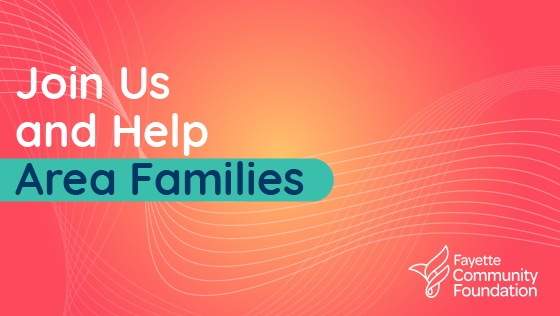 Did you know that some of the foundation for the rest of your life's success is developed when you're very young? Things like safety, health, nutrition, and access to reliable childcare give kids a better chance at success later in life. This helps families become more self-sufficient and resolves multigenerational issues that affect the community. It's not just a "feel good" issue – there's also real economic data showing that the benefits of early childhood programming outweigh the costs. According to a White House study published in 2014, the existing research suggests "expanding early learning initiatives would provide benefits to society of roughly $8.60 for every $1 spent, about half of which comes from increased earnings for children when they grow up." In addition to increased wages, a community that focuses on early childhood learning and development sees an increase in mothers' employment rates and incomes, a reduction in crime and remedial education, and lower expenditures on healthcare.  
Fayette Community Foundation's Involvement
You probably already know that the Foundation prioritizes collaborative efforts that improve overall community health and wellness. Addressing the multigenerational issues stemming from a lack of quality early learning and wellness opportunities was something we couldn't ignore.  
In May of 2020, we established the Early Learning Coalition – a network of organizations and parents that value early education – and brought in Billie Watkins, a Connersville resident and elementary school teacher, to serve as our Early Learning Coordinator. We are currently developing an advisory committee that will help steer the work and develop larger goals for Fayette County. Members currently include representatives from various community partners, including (but not limited to) Reid Community Benefit, Healthy Start, Fayette County School Corporation, Fayette County Department of Child Services, Children And Services for Youth, Chamber of Commerce, Head Start, First Steps, and our local Purdue Extension. This group – along with parents – will serve as the advisory board to determine focus areas and push initiatives that address the early learning needs of Fayette County. The Coalition developed a comprehensive plan that will help the group work towards goals and track the community's success. 
Our 
Focus Areas
The Early Learning Coalition identified four major focus areas and is developing a task force for each focus area. These tasks forces are being built using community data to determine where Fayette County had the highest needs.  
Health & Wellness of Children & Families

 
Addressing things like the impact of substance abuse disorders on babies and families, increasing prenatal care access and continued medical support, and providing support and resources for families and caregivers of young children.

 
Connecting families to existing community resources and developing Fayette County as a "Family Centered Community."

 
Early Childhood Care & Education

 
Developing a pipeline of qualified early childhood professionals and increasing access to high quality year-round childcare for infants to three-year-

olds

.

 
Developing 

ways

 the community can support families and increasing public awareness of early childhood and brain development. 

 
Join Us
You can get involved by joining a task force in an area you feel passionate about. We welcome anyone else who would like to be a member of the Early Learning Coalition to join us – especially those who are stakeholders in early learning, healthcare, and family resources. However, you don't have to be a parent. You don't have to be an educator. We recognize that early childhood programs benefit all members of the community through tangible and intangible ways, so we extend our invitation to anyone who feels like they have insight on how to make Fayette County a better place for children and families. Give us a call at (765) 827-9966 or email info@givetofcf.com to get involved. 
The Benefits
Still wondering how we can measure the impact in our community? We'll leave you with one landmark study that sparked many early childhood programs throughout the country: the Abecedarian Project. In this study, children were randomly assigned to receive full-time, high-quality education from infancy to age five…or not. They rigorously tracked these children throughout their lives. Gains from access to early, high-quality education persisted through adolescence and adulthood. These children had higher cognitive scores and scored higher in subject-based achievement tests. They graduated high school and attended college at higher rates. By age 30, they had income gains of over 60% when compared to the control group of children who were not randomly selected to receive the early childhood education. The Abecedarian Program also helped parents: motherhood employment increased as well as motherhood earnings (about $90,000 more over her career – twice as large as the control group) and parents had better health outcomes due to reduced stress. Imagine what the Early Childcare Coalition will do for Fayette County. 
 –Alexandra Pflug, Executive Director and CEO, Fayette Community Foundation