05.11.21
Designated Payouts vs. Grant Cycles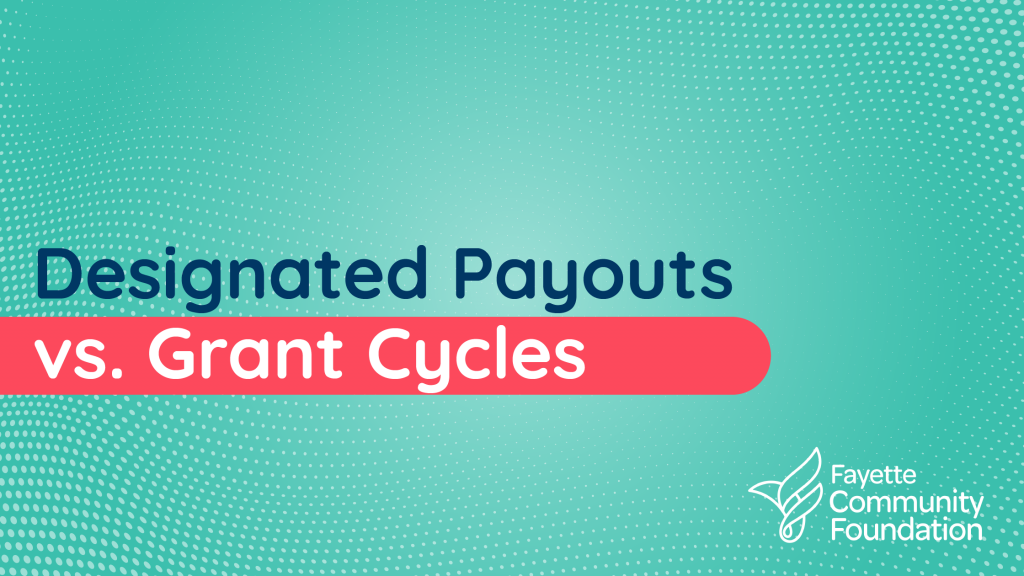 The different philanthropic options can sometimes be confusing. If your clients do not have prior knowledge of endowments, they may not know about the differences between designated payouts and grant cycles. We have had many people who get the two mixed up, so being able to simplify endowments for your clients will make it easier for you to aid them in their decision. We are also always open for questions. If your client would like to talk more in depth about endowments, please contact us!  
The biggest difference between payouts from designated funds and funds that support our grant cycles is designated payouts have an intended charitable recipient, while other grants have an intended charitable purpose.  
Designated Payouts
Designated payouts are a powerful way to make a lasting impact on the community by supporting a specific charitable entity whose work is meaningful to a donor. A donor gives a certain amount of money to the Foundation to invest that is intended to support an organization forever – this is called an endowed fund. The funds the donor gives are held and invested to earn interest over time so that their designated recipient will receive a payout every single year for as long as the organization exists and continues to fulfill their intended purpose.  
Each year, 4% of the rolling average value of the fund will be paid out to that organization. 30 to 40 organizations in Fayette County count on a yearly payout from generous donors. You can read more about those organizations here. Designated payouts are restricted funds, learn more about unrestricted, somewhat restricted and restricted funds, by checking out our endowment flowchart. We have also created an endowment flow chart to make it easy for our professional advisors to support their clients. There are some restrictions on which organizations can receive designated payouts. Distributions may be made only for charitable purposes and may be made to publicly supported 501(c)(3) charitable organizations, schools, churches, religious organizations or government entities 
Grant Cycles
Grants are also an important part of supporting our community. Grants tend to fund a purpose and not a specific organization, unlike designated payouts. Grants are sourced from our unrestricted Community IMPACT Fund. When donors give to the unrestricted funds, they are supporting the nonprofits and organizations that need it the most in Fayette County. Our grants are competitive, and each hopeful applicant is required to demonstrate how they have a specific charitable need and how the Foundation financially supporting this need will promote positive and sustainable change in our community.  
 Publicly supported 501(c)(3) charitable organizations, schools, churches, religious organizations or government entities may be eligible to apply for a Fayette Community Foundation Grant Cycle. These entities are committed to community betterment, health and human services, and/or education. Donors who want to make a difference but may not have a specific organization in mind to support may give to the Community IMPACT Fund so that we can offer grants to various organizations over the years. This works to resolve a need within the community that is important to the donor without restricting the recipient to one organization. Read more about the Foundation's funding areas and grant request restrictions here. 
If your client is interested in donating to Fayette Community Foundation without starting their endowment, they are welcome to give to an already established fund. No donation amount is too small to make a difference. Contact us to learn more about contributions to an estimated endowment fund.    
Here at the Fayette Community Foundation, we are committed to helping our referral partners support their clients. Check out our other helpful blogs written specifically for our referral partners or sign up for the referral partners newsletter.