11.09.21
How Nonprofits Can Use Canva To Improve Their Marketing
Canva 101 for Nonprofits
If you work with a nonprofit, you may be wondering how nonprofits can use Canva to improve their marketing. You may be even asking… wait… what is Canva?  We get it!   
We are here to help you and your nonprofit organization improve brand recognition and designs. But how do you improve your techniques with limited capacity or knowledge? Sometimes the people designing social media posts or promotions aren't traditional designers, and they have limited knowledge of the Adobe Suite. So how do you build capacity within your team if you don't have a salaried designer? We might have the answer for you, and it is much simpler than using some of the complicated design programs.   
For all smaller businesses and nonprofits, we would suggest using Canva! If you haven't heard of Canva, this online program may change the way you are designing. This is an online designing and publishing program which makes creating beautifully branded designs simple for all users. If you go check out the Fayette Community Foundation Facebook, you can see many of the designs on Facebook were made on Canva! We use Canva to stay consistent with our branding, and we also enjoy making cute designs.   
If Canva sounds like something your organization could use, stick around because we have some helpful tips for using Canva. Interested in more tips for nonprofits? Check out our 10 Tips for Growing Nonprofits.   
Becoming a Pro at Designing with Canva
So, let's get to answering how nonprofits can use Canva to improve their marketing.  Using a brand-new program is a daunting and tedious task. There are so many new things to learn while using Canva, but we know with the help of our tips, you will be a pro in no time. The first thing that every new user of Canva should take advantage of is the vast tutorial library. Canva has provided all of its users with an extensive user library. It includes simple instructional videos like aligning text boxes to more advanced techniques like animating your designs. This library is your home base for learning everything you need to know. Remember that this library is filled with information videos! You can visually learn how to use all the applications available in Canva by simply following along with videos. If you are interested in learning more, they also offer free courses like personal branding, graphic design basics and presentations to impress.   
Within Canva, you can access thousands of templates for social media posts, greeting cards, and so much more. There is also a vast assets library with premade graphics and photos that can be used in almost any design. You can even put your creativity to the test by designing something from scratch. Each of your designs is connected to your account and will be in your library. You have the option of creating folders within Canva to help keep you organized. The possibilities are endless.   
To become a pro using Canva, follow along with the steps on test designs. Hone your skills by creating mock-up designs and playing around with different templates. Canva's simple drag and drop design combines simplicity with an effortless user experience.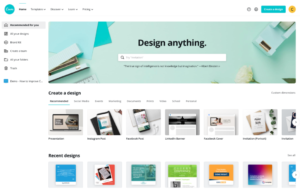 Creating A Branding Guide
Another perk available through Canva's paid plan is the ability to create a personalized branding guide. A visual guide allows you to preselect your colors, fonts, and logos. You can keep each of your designs on-brand with your organization's colors and logos. If you don't already have a branding guide, Canva gives you a simple format to choose the colors and fonts that best fit your organization. This is perfect for a smaller organization that does not have access to a designer to create a branding guide. Instead, you can create a simplistic version of a branding guide that is there any time that you need it. Creating a brand guide with Canva is as simple as it gets!  

Alignment, Simplicity and Blank Space
Improve your eye for design by learning more about what designs work for your organization. It is essential to keep a close eye on the alignment of your text throughout your design. Text that is too far apart may be hard to read or seem fragmented. In comparison, text that is too close together can look blurry and make it hard to read. Finding the perfect medium for your designs is critical to improving readability and catching the eye of your viewers. Learn more about alignment and how to align in Canva.   
Keep it simple! Keeping your designs simple is usually the best way to go when designing in Canva. Sometimes a design in Canva can get too busy, and it takes away from the point being made. For example, if you were to use Canva to create a solicitation mailer, you want the solicitation to be the main focus of your reader. If there is too much on the design, they may miss the point entirely. We have a great example below of a design that is too busy and one that is more simplistic. Check out the Canva tutorials on how to keep your designs simple but visually appealing.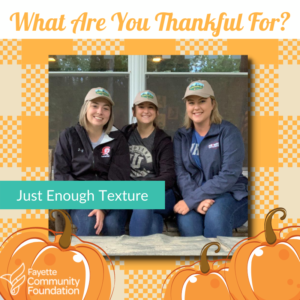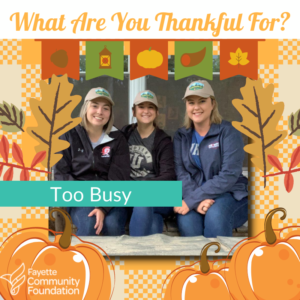 One thing that ties into simplicity but is worth mentioning is blank space. Blank space speaks volumes in a design. It is not a bad thing to have some blank space in your design. It allows you to evenly space images and make sure the design makes a statement, but it is not too busy. Learn more about blank space!
Create Animations
Canva also gives you the ability to create little animations. Almost any design you create can be animated, which is excellent for anything you plan to use online. The little animated design can set your social media or presentation apart from the rest. Without extensive effort, you can create professional-looking animated designs. If you are already familiar with Canva, this is a great tip to help your level up your designs. Learn more about creating animated designs.   
Free or Paid Account
We know what you are thinking; there is no way that this extensive online program doesn't come at a cost. And you would be correct. Canva Pro, which gives you access to all the advanced features, is not free. But luckily for our local nonprofits, you may be eligible to access Canva Pro for free. Canva Pro is free for all registered nonprofits, which is excellent news! We would suggest signing up for a free account and learning more about Canva, but we have a feeling you are going to love it just like we do! After you have had the chance to test Canva for a few days, register for a free nonprofit pro account. Follow the link to learn more about their guidelines to register.  
Get More Information
We hope we've answered how nonprofits can use Canva to improve their marketing.  If you are looking to level up your marketing, we have more tips to help you along the way. For more nonprofit information, check out our blog, where we have dedicated a blog each month to support our local nonprofits. If you want to stay updated with everything that is happening at the Fayette Community Foundation, sign up for our nonprofit newsletter.