03.08.21
10 Things Small Nonprofits Need in Order to Grow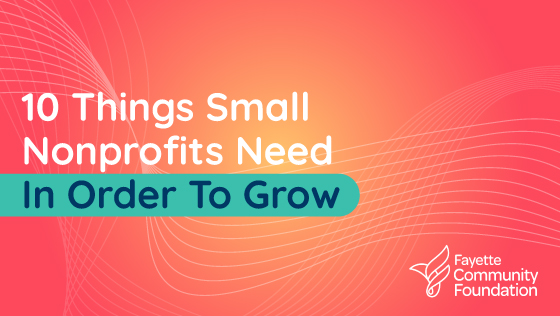 We are fortunate, here in Fayette County, to have a variety of nonprofits supporting many great causes. We have the Connersville Lion's Club, Whitewater Valley Arts Association, and Discover Connersville just to name a few. We have had the pleasure of providing grants or designated funds to many of them in recent years. Their causes may be different but, one thing they all have in common is their need to reach donors and the individuals they serve in a meaningful way. This inspired me to write about the things small nonprofits need to in order to grow.    
Challenges Facing Nonprofits 
There were many challenges facing nonprofits before the onset of COVID-19. Now, nonprofits are facing challenges they could have never imagined or planned for. We know many organizations struggle with getting their message out to the community. Some nonprofits lack the funds to hire a marketing or digital design expert, and their team may not have significant experience with technology and software.   
As the Executive Director of the Fayette Community Foundation, I am passionate about Fayette County and our nonprofit community. I enjoy leveraging technology to be more efficient and effective. I have also been a member of a nonprofit board. Over the course of my work and volunteer experience, I've come to appreciate the value of embracing helpful technology. It has the power to raise awareness for your cause within the community, and it gives you the opportunity to tell your story in a way that resonates with donors and community members.   
Every organization has room for growth. I want to plant some seeds to get nonprofit leaders thinking about their organization's success in the future. So, without further ado, let us get to the list!  
10 Things S
mall Nonprofits Need
in Order
to Grow.
Nonprofit Tip #1: Social Presence 
When thinking about your organization's social media presence, you should ask yourself two questions: Which social media platforms is my organization currently on? Why did we choose these platforms?   
If you cannot answer the second question, you may be on too many social media platforms. With the increasing popularity of social media, there are millions of organizations on all sites. Some organizations fall into the trap of believing they need every single platform. Nonprofits, for the most part, do not need to be on every social media platform. Instead of cross-posting and half-heartedly using four or more platforms, choose one or two platforms that your target audience is using. Focus your time, energy, and resources on a few platforms. Research these platforms and take time to curate your content. You need to understand the functions of the social media you are using. For example, Facebook has business pages and groups. A Facebook business page and a Facebook group do not serve the same function. Take some time to play around with your social media account to understand it better.    
The next step is to choose the social media platform(s) that works best for your organization. For more information and instructions on picking the best platform, click here. If your organization does not yet use social media, read more about the impact social media can have on your nonprofit.   
Nonprofit Tip #2:
Website 
Let's talk about websites. If someone is searching for information about your organization conducting an online search is likely the first thing they do. I know some nonprofits believe it is easier to use only social media to make their information public. While this may be a cheaper and less time-consuming way to put your information on the internet, it's important to be aware of that fact you do not own your Facebook business page. If Facebook shuts down your page, you will lose all the information and all your followers.    
Don't risk that happening by purchasing your own domain (budget for an annual renewable registration fee) and building your own website.  Setting up a website does take some time, but it does not have to cost thousands of dollars nor does it have to be difficult. There are website builders that can easily fit into any budget and are user-friendly even for those of us who don't consider ourselves tech-inclined. Click here for a comparison of the best website builders for nonprofits.   
Nonprofit Tip #3:
Contact Information Must Be Easy
to
Find 
All nonprofits need to have contact information for the organization. This includes an organization email, phone number and mailing address. If you are creating a website or already have a website, it is easy to set up an email address using the domain name. This looks much more professional and can act as a catch-all email that will keep your personal email from becoming cluttered. Having a domain email helps you stay organized and professional. It also helps website visitors connect with your organization because the email remains the same despite position changes or restructuring with your organization. If you want to set up an email using your organization's website domain, learn how. Pro Tip! Set up info@yournonprofitsurl.com to act as an administrative email address.  
Nonprofit Tip #4:
Accept Online Donations 
Accepting online donations is a huge step forward for small nonprofits. Entering the age of technology, there have been many changes in the way individuals donate. People are no longer hesitant like they have been in the past to donate money using an online resource such as PayPal Donations or Fundly. Many people even prefer online donations because it is easy and something they can do from their laptop or smartphone. Find out the best donation tools for your organization by clicking here.   
It is important to remember that online donation platforms do charge a fee. Usually, this fee is small, and the amount depends on the software. Be upfront with the donor about the user fee. Some organizations choose to absorb the fee while others ask donors whether they would like to cover the fee as a part of their donation. Before accepting online donations, your leadership team needs to decide which option suits your nonprofit best.   
Nonprofit Tip #5:
Email Software 
Have you ever thought about using email software? This is a great way to send professional emails and newsletters with ease. Services like MailChimp, house all your organization's email recipients and allow you to segment (or group) subscribers for a more individualized experience. Mailchimp is free for up to 2,000 subscribers, which is usually more than enough for small nonprofits. Email marketing is a fundamental element in fundraising and communication with your donors. Learn more about different types of nonprofit funding.  
Setting up a MailChimp is easy! Make sure to use your organization's domain email address for ease of access. (remember the pro tip of using a generic email like info@yournonprofit.com) Check out this beginner's guide with all you need to know about setting up your organization's MailChimp account.   
Nonprofit Tip #6:
Communications Platforms 
Everyone who has worked in an office knows how quickly your email inbox can fill up. All day every day there seem to be too many new emails to count. This is the reason why instant messaging platforms are so helpful. Without the cumbersomeness of email, you can freely message individuals or groups within your organization. In addition, many smaller nonprofits don't have an office or staff at all, so leadership and members aren't able to see one another face-to-face on a regular basis. One platform that is nonprofit-friendly is Slack. Slack can be downloaded on your computer or phone. It allows you to send a message quickly and efficiently. It offers customization so you can choose how you want to receive notifications, meaning it is easy to turn off on the weekends. Not only can you share messages, but you can instantly send documents or create topic-specific group chats. Watch this video about how slack could be useful to your nonprofits!   
Nonprofit Tip #7:
Video Conference Platforms 
If we learned anything from 2020, it should have been how important video software is to nonprofits. During the beginning of COVID-19, when face-to-face meetings became unsafe, video conferencing became the backbone of the nonprofit (and even for-profit) world. Still, months later, a large percentage of meetings are being conducted using some form of video conferencing platform. Video conferencing platform options are abundant with some of the most well-known being Zoom and Google Meets. Compare the best video conferencing options for your nonprofit by clicking here.   
Video conferencing still feels new to a lot of people and organizations, but it looks like this is going to become a permanent part of the nonprofit world. It provides benefits far beyond the current safety concerns as it encourages access to individuals who are unable to attend in-person meetings. That is why it is important to have someone trained in using your preferred video conferencing platform. Video conferencing is no longer just a form of internal communication. Instead, this has become a viable way for you to communicate with the public. Having an on-staff expert in Zoom or Google Meets will ensure that your organization is professional in internal and external communications.   
Nonprofit Tip #8:
Design Software 
With all the technology available today you do not have to be a design expert to create professional digital and print designs. Tools like the Adobe Creative Suite are awesome for members of your team who know how to use them. For other people who are design challenged, like me, options like Canva provide a way to generate creative and user-friendly designs (they even have options to help you create images that are specifically crafted to fit the dimensions of certain social media posts, banners, and profile images). Canva is a free platform that anyone in your organization can use. Paid versions of Canva also allow you to upload your brand colors, font, and logo. Don't have a logo or brand colors? You can even use Canva to create some of these digital items that you can then use for your website, social media pages, and documentation. (Don't have the budget for a paid plan? Check out #9 below.) Follow this step-by-step guide explaining how to create designs in Canva. If you have not yet started, now is the time to design all your social media assets in Canva!   
Nonprofit Tip #9:
Seek Nonprofit Discounts 
One benefit of nonprofits is the number of software and service companies that will offer discounts to nonprofits. This is a no-brainer way to save your organization money. Many companies are willing to offer discounts, but they don't always advertise this discount clearly. Take a chance and reach out to ask if they offer any nonprofit benefits. Saving money on internal software, services and subscriptions allow you to stretch your budget even further. Check out these 78 discounts your nonprofit could benefit from.    
Nonprofit Tip #10:
Re-evaluate Your Strategy 
One thing that 2020 has taught all of us is to expect the unexpected and prepare for the unprecedented. It has also given many organizations time to pause, reflect, and re-evaluate. Your leadership may determine it is time for a change. This may be something small like refreshing your logo or it may be tweaking and changing your mission statement. When restructuring and refocusing it is important to first begin with your mission and vision statements. These are the things that impact and guide everything your organization does. Take a new look at your mission statement by watching this video. If you find your organization needs to undertake more than small changes, consider outside help. Work with a professional in restructuring and strategic planning to set your organization on the path to success.