11.24.21
Flowchart for Charitable Investments in Fayette County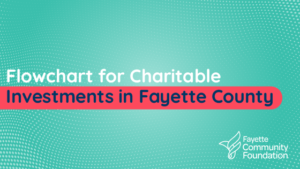 As a professional advisor, you may be asked questions about how your clients can make a charitable investment in Fayette County that exists in perpetuity. By allowing the Fayette Community Foundation to be the steward of your client's investment, we can ensure their donation will impact Fayette County for years to come. Aiding your client in their gift-giving journey can be confusing. That is why we have created this blog and flowchart as a resource for you. We want to provide you with all the resources and information you need. Of course, if you or one of your clients has any further questions, don't hesitate to get in touch with us!    
The flowchart may seem a little overwhelming at first glance, but we have a couple of questions you can ask your client to gain more insight into their intention for their charitable investment, which will help you follow along with the flow chart. Keep reading to learn more about the charitable giving flowchart.  
One-Time gift or Long-Term Gift?  
Firstly, you need to determine if the Fayette Community Foundation is the place for your client to donate. If your client wants to make a one-time donation to a specific organization, we recommend contributing directly to that organization! This donation would go straight to their organization of choice and then be used according to the donor and organization's wishes.     
If your client wants to make a charitable investment in Fayette County, the Fayette Community Foundation is a great option. A perpetual gift makes a continued impact for years to come and can be a great way to leave a legacy. As a result, making a charitable investment allows an initial donation to grow over the years, slowly increasing the payout over time. 
If perpetual giving is your client's goal, continue reading to determine which endowment fund meets your client's needs.   
Today or Future? 
When would your client like to donate? We would be happy to assist your client today by managing a cash or cash equivalent donation. Some clients wish to make a future donation in the form of a will, trust, IRA, life insurance, etc. We work closely with professional advisors and clients to set up any of these charitable gifts, whether it is today or for the future. If your client is interested in donating, please contact us for more information. We work closely with each of our donors to honor their wishes for their charitable investments.   
What Is Your Client Passionate About?
It is essential to determine what your client is passionate about in Fayette County.   
Are they a retired teacher who wants to support education?  

 

Do they have a love for the environment?  

 

Do they want to support local nonprofits long-term?  

 
The questions can go on and on. Once you have identified your clients' passions and intentions for their donation, we can find an endowment type that works for them. To learn more, check out our blog about connecting donors to their community projects for more in-depth information about projects happening right now in Fayette County. Fayette Community Foundation offers six types of endowments for donors. These endowments fall into three categories; investments can be unrestricted, somewhat restricted, or restricted.  
Unrestricted Funds 
Firstly, unrestricted funds are perfect for donors who want to make a difference in the community in any way possible. It gives Fayette Community Foundation the flexibility to support the community across many generations. Learn more about our unrestricted Community IMPACT fund! Their donation will fill gaps in the community through flexible grantmaking.     
Somewhat Restricted Funds 
Secondly, somewhat restricted funds are perfect for a donor who is very involved in the community. Such as an individual who knows a lot about the community and organizations working within it. They also might have a specific passion or field of interest such as education, community improvement, etc. We already have many established field of interest funds. Here is the list of our established endowments that your client could contribute to.      
Restricted Funds 
Finally, restricted funds are predetermined endowments. That means we are the stewards of our donors' wishes. If something prevents the Fayette Community Foundation from honoring the donor's original intent, we will honor the donor's legacy to the best of our ability. Please keep in mind that not every type of organization can be the recipient of an endowment payout. The IRS regulates restricts designated recipients of these funds to 501(c)(3) nonprofit organizations.    
Once you have determined your donor's wishes, use our endowment flow chart as a visual aid. Click here for the downloadable version. The flow chart is meant to help you and your clients find the best charitable investment in Fayette County to honor their legacy. Learn more about the specifics of all six endowments using this infographic.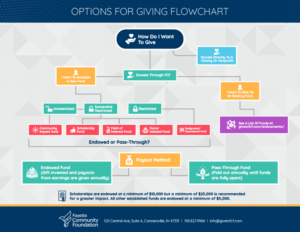 Get More Information  
If you are looking for more information about the Fayette Community Foundation and how you can best support your clients, check out our blog. We have dedicated blogs to help our local professional advisors. In addition, you can sign up for our professional advisor newsletter if you want to stay updated with everything happening at the Fayette Community Foundation.