01.26.23
Looking Back & Looking Ahead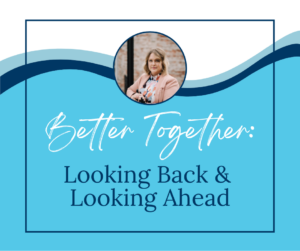 Can you believe it's already the end of January? Time doesn't slow down and the Fayette Community Foundation is busier than ever! To keep you informed and to track our progress, I'd like to continue the tradition from last year and share our accomplishments and goals for 2023.
Here's what we accomplished in 2022:
We completed a large-scale migration to a new cloud-based database system. This allows us to create new reports easily, benefit from the cloud's remote on-demand accessibility, and ensure our database is easily accessible in the years to come.
We hosted ten nonprofit meet-ups. Our intention with these events was to provide a collaborative space for local charitable leaders to learn from each other and guest speakers.
We granted over $100,000 in one of the largest single competitive grant cycles in recent history for the Foundation.
We awarded over $90,000 in scholarships! We're so happy to be able to support local students.
We welcomed over 400 visitors to our second annual Candy Canes and Cocoa event in December. To put this into perspective, we had about 100 visitors last year. We're grateful for the support from our community.
We also welcomed over 60 brand new donors to the Fayette Community Foundation.
We held eight Out-of-Office Hours sessions where we met new and existing friends of the Foundation. We're looking forward to continuing this in 2023.
I am incredibly grateful to our staff and board members for their hard work and vision this year. Keeping the Foundation thriving is truly a team effort. We are also grateful to the community for continuing to show up for us and themselves to enhance the quality of life through impactful grantmaking, strategic endowment building, and community leadership.
What's Next?
We're thrilled with what we accomplished this year, so the challenge is on to make 2023 even better. My goals for the Fayette Community Foundation include:
Growing and developing our team. We've welcomed three new Board Members, Clayton Judd, Billie Kester, and Matthew Watkins, and a new Office Manager, Becky Turney. We're thrilled to have Becky as part of our team and our new Board Members' guidance on our Board of Directors.
Continuing to meet with donors and supporters. While I was grateful for each chance I had to engage with new and long-time donors in 2022, I would love to build on this and meet with even more of you in 2023. I want our donors and supporters to know what we're doing with the gifts they've given the community and I'd like a chance to express my gratitude for their generosity.
Develop more donor engagement and stewardship programs. Writing a check or updating your estate plan shouldn't be the end of your relationship with the Fayette Community Foundation. My goal is to develop ways to keep you informed and participating in the work that we do. Our team member, Abi, who has stepped into a new role as Director of Communications and Donor Relations will be developing new ways to engage with our donors, say thank you, and share impact stories.
Support professional development in the field of philanthropy. I am pleased to share that I was selected to join the 2023 cohort of the John Mutz Philanthropic Leadership Institute. This 10-month development program will help bring new ideas and fresh perspectives on philanthropy to Fayette County.
Increase support for our local nonprofits. We'll continue our nonprofit meetups and learn from nonprofit volunteers, staff, and board members on how the Foundation can best support their work. Also, keep your eyes open for exciting news on a nonprofit capacity-building training coming in a few months!
This is just a small start to our 2023 To-Do List for Fayette County and I hope that we continue to serve the community well. If you have any questions or suggestions, give us a call at (765) 827-9966 or email info@givetofcf.com.
      -Alexandra Pflug, Executive Director and CEO, Fayette Community Foundation