01.31.23
January 2023 Nonprofit Meetup Notes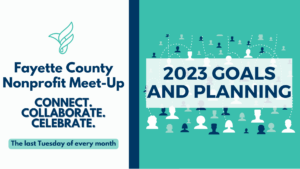 At the January nonprofit meetup local nonprofit members came together to network and speak about their goals and plans for 2023. Morgan Hamilton, Director of Community Impact at the Fayette Community Foundation, gave a short presentation with tips and tricks regarding planning and goals. You can find her presentation by clicking here!
Please email us at info@givetofcf.com if you have any questions or need any assistance with the information discussed.
Activity from the meetup:
Participants were encouraged to think about their 2023 goals and complete the below sheet. Afterwards a few people spoke about their goals to the group.