12.14.21
The Why, What, and How of Strategic Planning for Small Nonprofits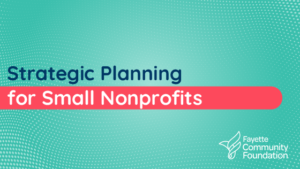 YIKES!  2021 is almost over!  This is the time of year when organizations reflect on what they've completed during the year. Also what they want to accomplish next year.  How many times has your small nonprofit reviewed the strategic plan? You may be thinking, "Wait…what?  We are too small for a strategic plan, that's what the big nonprofits do." Or you could be thinking, "Strategic planning for small nonprofits is more than just a retreat?  Do you mean we're supposed to be looking at throughout the year?"  
The short answer to both questions is YES!  Yes, small and large nonprofits need a strategic plan. Yes, the plan needs to be used to guide the work.  
In the nonprofit world following a strategic plan can be difficult. It happens way too often that organizations see strategic planning as a fun retreat and not a road map to guide their work. Many nonprofits are in constant need of extra funding, board members, employees, and volunteers making following the plan that much harder.   When the topic of strategic planning comes up, you may ask yourself, why do we need a strategic plan? Or you may ask, how can we possibly implement it with our limited resources? 
Fortunately, we have some answers for you and some tips to help small nonprofits understand why having a strategic plan is important and how to implement it once the retreat is over. If your organization does not currently have a strategic plan, continue reading because you may find some helpful information.   
Strategic Planning for Small Nonprofits – Why It's Important
Let's start by clearing up some confusion with the phrase "strategic planning" and the word "strategy."  These terms and phrases are often used interchangeably and frankly, it can get very confusing.    
A strategy helps you explain ways the organization is uniquely qualified to help donors achieve their goals of making an impact. Essentially, a nonprofit's strategy is the anchor or its position against other nonprofits for attracting donors, grants, and funding that ensures it can accomplish its mission.  Once you have considered your strategy's effectiveness, you can begin to realign your organization with the strategic plan.   
A strategic plan explains how that organization will live out its strategy.  A strategic plan is more than just a document to help nonprofits get grants.  This can help tell your story to donors, employees, volunteers, and the community, it can provide a roadmap to accomplishing the organization's goals and can set the direction of the organization for years to come.  
What Does a Strategic Plan Do for Small Nonprofits?
A strategic plan and the planning process can do a lot for nonprofits, small and large.   
Gain Alignment

– the planning process can help the board and staff gain alignment on why the organization exists, who it is meant to serve, and how it will make an impact.  This opens the group up to get clear on the organization's

strategy

. Without a strategic plan, you may feel like everyone in your organization is going in different directions.   

 

Tells The Organization's Story

– a well-done strategic plan can help tell your story to donors, employees, volunteers, and the community.  

 

Roadmap To Accomplishing Goals

– it can provide a roadmap to accomplishing the organization's goals and 

 

Sets The Direction

– it can provide the details of where the organization sees itself in three, five, or even ten years from now, helping to set the direction of the organization for years to come.

 

Provides Clarity

– there are many things a nonprofit should do or could do, but a strategic plan makes it very clear what the organization

will do

. 

 
Creates Ownership

– the process of strategic planning is equally as important as the plan itself. 

Giving staff and board members space and the ability to speak openly will ensure the plan is co-created and, therefore, co-owned.  

 
How To Implement A Strategic Plan
Thousands of nonprofits embark on developing a new strategic plan each year. Then they let that plan collect dust in a binder.  There's not much point in having a plan if you don't use it to guide the work.  
So, if you have a plan already or you are considering beginning the strategic planning process, we suggest starting with the end state, by this we mean implementation.   
Take a moment to think about these end-state questions:
How will we use this plan in our day-to-day work?

 

What management routines exist today that will need to be augmented to help us incorporate our strategic plan?

 

Who will monitor our work against what we've agreed to in the strategic plan?

 

What work do we need to consider stopping to allow more capacity to accomplish the goals in the strategic plan? 

 
When developing and implementing a new strategic plan will result in changes. This change could include how the organization operates, the role and responsibilities of the staff or board members, or how the organization markets to donors.  The effectiveness of how change is managed is critical to the success of implementation.  One person cannot carry out an organization's strategy or implement the plan; it is all hands on deck.   
In order for the plan to be executed it must be embedded into the day-to-day operations of the organization.  
It's Important to Have EVERYONE on Board
Whether there will be changes to the existing strategic plan or the development of a new plan, it's important to discuss with the staff how the plan will be implemented and what their role will be. An organization cannot be directed by its strategic plan if everyone is on a different page. Effectively communicating expectations and how the strategic plan directs the organization is critical for accomplishing the goals of the organization.  
Getting everyone on board with the strategic plan is critical. Also keeping them up to date on changes ensures everyone is heading in the same direction.   
Consider Professional Help
While reading this blog, if you feel overwhelmed by the need for a new or revised strategic plan, your organization may need to consider hiring professionals. Fortunately, some organizations specialize in strategic planning for nonprofits. They help your organization create or revamp your strategy and help you align to it. While every company offers different packages, some strategic planning consultants also help in the beginning stages of implementation. Strategic planning can be expensive, so keep that in mind as you evaluate your old strategic plan. There are multiple small and mid-size consulting firms close to Fayette County. Any of them would be happy to help you build your strategic plan.  
Get More Information
We hope we've answered some of your questions about strategic planning for small nonprofits.  If you are looking to level up your marketing, we have more tips to help you along the way. For more nonprofit information, check out our blog, where we have dedicated a blog each month to support our local nonprofits. If you want to stay updated with everything that is happening at the Fayette Community Foundation, sign up for our nonprofit newsletter.