12.14.21
2021 Year-End Review and Looking Forward to 2022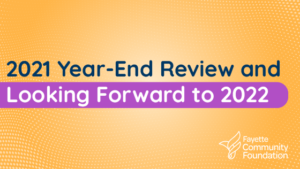 2021 has been a rollercoaster for everyone. There seemed to be something new happening in the world every month. But after a year that has kept us all guessing, we have had a fantastic year at the Fayette Community Foundation. Because of our incredible donors and supporters, we have been able to help improve the quality of life in Fayette County through it all.   
We have made remarkable changes this year that we are excited to share with you. If you are interested in monthly updates from the Foundation, sign up for our monthly newsletter. We will share everything new and exciting at the Foundation; we also have helpful information for our local nonprofit leaders, professional advisors, scholarship recipients, and curious community members.   
Continue reading for a 2021 year-end review from the Fayette Community Foundation.   
2021 Year End Review: Building a Strong Team
The year began shortly after our new Executive Director, Alexandra Pflug, took her place as the leader of the Fayette Community Foundation. Her new fresh perspective was exactly what the Foundation needed during 2021. In her first year, she hired a fantastic new team member, Abi Roszell. In June, Abi joined the team as the Office Coordinator and Data Specialist.   
A new team member and executive director weren't the only new things happening at the Foundation office. During the onset of COVID-19, everyone learned about weak points in their organization, and the Fayette Community Foundation was no different. Knowing what needed to be changed, the Foundation team has enhanced its effectiveness and flexibility with new technology. Programs like Mailchimp, upgraded phone systems and computer programs have allowed the team to serve the communities virtually if needed. The Foundation team has used 2021 to grow!   
2021 Year End Review: New Community Events and More
Connecting to the community is no small task; there are always new people to meet, even in a smaller community like Fayette County. One of the new ways the Fayette Community Foundation is working on connecting with the community is through a community event. You may have seen the giant coffee cup on our window. The window decal is connected to our Winter Giving Campaign. Within our Giving Campaign, we planned a community-wide event! Our Candy Canes and Cocoa event is something that we hope to be an annual event that will grow bigger and bigger over the years. We love seeing the community come together during one of our favorite times of the year.   
Community events aren't the only way we have been working to grow our connection. We have been using new communication channels and rekindling old ones. An example would be our newspaper article; we have all of our old articles on our blog. We also have stepped up our social media and email communication. In 2021 we began sending monthly emails, in addition to frequent e-newsletters for our professional advisors, scholarship recipients, and local nonprofits. If you are not already on our email list, click here to receive news and resources from the Foundation in your inbox. 
2021 Year End Review: Developing a Strong Community
At the Fayette Community Foundation, our goal is to improve the quality of life in Fayette County. We support the community because of our generous donors through grants and scholarships. We also believe in developing strong leadership in the community. Funds can make a big difference in our community. But without solid leadership and infrastructure, funds can only do so much.   
That is why the Fayette Community Foundation's involvement is so important in the Workforce Develop Coalition and grant-seeking efforts on state and national levels. Fayette County residents benefit the most when all nonprofits and organizations are working together. Our community gets the most done when we come together. In 2021, our executive director, Alexandra Pflug, worked hard to move into a community leadership role to lend her knowledge to coalitions and grant-seeking efforts. 2021, despite its difficulties, has been an excellent year for growth in our community leaders, and we can't wait to see how we develop as a community in 2022.    
Looking Forward to 2022
With the final days of 2021 counting down, we have been looking forward to 2022. We are so excited about the things that will be coming our way in this new year. We are going to do some revamping, building and growing during 2022.   
In 2022, we will be revamping something that the Foundation used to do every year. We will be bringing back the Annual Report. This will allow us to show our donors all of the great things that we are doing throughout the year. We have some big ideas, so keep an eye out.   
We are going to continue our support of community nonprofits by hosting regular meet-ups. These meet-ups will give local nonprofit leaders the chance to learn and share. It is impressive how many great ideas come together when the leaders of our nonprofits have an opportunity to meet. It can be challenging to bring community leaders into one space. By scheduling meet-ups and taking over the planning, we can give community leaders the room they need to do great things for the community. Keep an eye out for more information about our nonprofit leadership meet-ups.   
Finally, one of our main goals for 2022 is to continue to build our donor relationships. We hope to plan more meet-ups with our established donors and build stronger relationships with the generous people supporting our community. We also hope to increase our number of new donors and introduce the Foundation to more people in the community. The Fayette Community Foundation has so many big plans for the new year. We have been ecstatic with the support of the community in 2021, we hope to continue this trend into 2022 and beyond.