11.24.21
Celebrate the Holidays Through Giving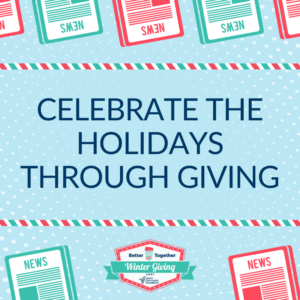 Have you noticed the hot cocoa art on our front window at the Foundation office? It's not just holiday décor: it's a community art project, and we need your help to complete it! You see, hot cocoa – although it's pretty great as is – is better with marshmallows. It's kind of a rule. You might have noticed that our cup of hot cocoa needs more marshmallows: just like Fayette County needs you. You can ensure our hot cocoa gets all the fixin's it needs by donating to get your name added to a marshmallow. Plus: you can even get some real hot cocoa to enjoy.  
You're officially invited to Fayette Community Foundation's first Candy Canes and Cocoa event. We want you to join us on Friday, December 3 from 5:00 to 7:00 pm. We'll have delicious hot cocoa (catered by Daniel Girls Farmhouse Restaurant), candy canes, and holiday decorations for you to enjoy as you give back to the community. Stop by, add your name to a marshmallow, and enjoy some holiday cheer with the Fayette Community Foundation. Donations are encouraged, but not required. You can make your donation via cash, check, or online. 
Your generosity improves our community by supporting the work that we do to help individuals, families, and businesses give back in a personal and purposeful way by providing grants and endowment disbursements to local nonprofit organizations. We also monitor needs within the community and help connect donors and agencies to where their help is needed most. It doesn't take a lot to make a difference in Fayette County: every dollar you give is treasured and makes an impact in our community.  
Depending on the size of your donation, you may want to speak with a tax advisor to ensure you're getting the most out of your Charitable Giving Benefits under the CARES Act for 2021*. Even if you're not itemizing your deductions, there is a provision for an additional, "above the line" deduction for charitable gifts of $300 for those filing as single and $600 for those filing jointly. There are also benefits for corporate giving, too, so schedule time with your accountant to talk about your options. *Please note that the Fayette Community Foundation is not qualified to provide specific guidance to individuals on this topic, so we suggest reaching out to a trusted professional well-versed in recent tax guidelines.  
The Candy Canes and Cocoa event is free, family-friendly, and meant serve as a cheerful, socially-distanced way for us to thank the community and meet the people who have supported us. Don't miss out on delicious hot cocoa and candy canes to get your holiday season started!  
If you have any questions, give us a call at (765) 827-9966 or email info@givetofcf.com. If you'd like to mail in a donation and have us add your marshmallow to our display, you can send your check to "Fayette Community Foundation" at 521 Central Avenue, Suite A, Connersville, IN 47331. 
 –Alexandra Pflug, Executive Director and CEO, Fayette Community Foundation