09.14.21
Community Care Starts Within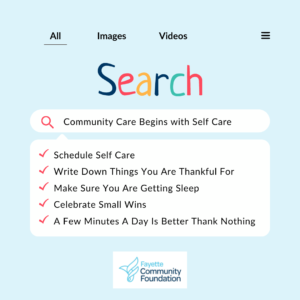 We all know those people who give everything to the community, and you might be one of them. They donate money, volunteer regularly, attend every event to show support, sit on various local boards, and even stop to pick up trash on the side of the highway. But to continue giving to the community, we must take some time to care for ourselves.   
As an organization that works with generous people, we have seen the volunteer fatigue that can occur. This can happen to anyone, young or old. It often feels like we are burning the candle at both ends, and eventually, we completely burn out. Giving our time is often a passion, but we must recharge our batteries.    
Here at Fayette Community Foundation, we like to say… Community Care begins with Self Care. 
Today, we are giving you some self-care tips. Because ensuring that you are caring for yourself means you can give more to those around you. It is important to keep replenishing your mental and physical health. That means giving yourself the same kindness and love you show to those around you. Community care starts within. So, what are some things you can do to pamper yourself without spending significant amounts of time and money? Keep reading to find out! 
5 Self-Care Tips 
Schedule Self-Care

It can be easy to say you are going to take some time for yourself. But actually, taking a self-care day is more complicated than we think! Taking a mental health recharger day can feel like a day we can use for a meeting or volunteering. We say no! Block that day and protect it.  Schedule some time during your week to take a quick walk, read, or relax without technology. Self-care doesn't have to be something expensive or time-consuming. It could be as simple as scheduling a time to watch your favorite TV show on a Saturday afternoon. The key here is intentionally setting aside time for yourself. 

Write Down The Things You Are Thankful For

 If you are suffering from burnout or a lack of self-care, something that can be very helpful is writing down things you are thankful for. Reminding yourself about the things you are grateful for can help to keep you centered. Also, the act of writing things down can be illuminating and boost your mood!  One trend now is Bullet Journaling, a system for capturing your mood, habits, and thoughts.  

Make Sure You Are Getting Sleep!

Restful sleep is one of those elusive things that everyone wants, but only children can seem to get. Sleeping is one of our most vital bodily functions! Make sure that you are getting enough sleep each day. Maybe even schedule some naps during your downtime. 

Celebrate Small Wins

Many people work hard to stay humble. They get so close to their work in the community that they forget to take a step back. We are asking you to zoom out and remember where you started. Celebrate the mini-milestones or small wins that you are doing and the lives you are changing. Remember, Rome wasn't built in a day!  

A Few Minutes Is Better Than Nothing

We know that everyone is busy, and sometimes it can feel impossible to take time for yourself. Just remember that a few minutes is better than nothing. Even if you can't find the time to take an entire day off, taking a couple of minutes or half an hour to center yourself will benefit you in the long run.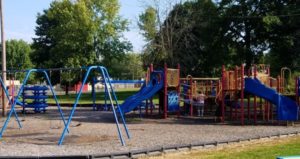 Great Places In Fayette County To Relax and Recharge
We live in such a beautiful county, and it's the perfect place to rest, relax, and recharge our batteries.  So, where do we go to break free of our commitments to work and the community?  We're glad you've asked! Here's our list of some of the best places to recenter and refocus your mind, body, and spirit.   
Take A Walk Among The Birds 

Visit Mary Gray Bird Sanctuary. This place is unique to Fayette County, has a rich history, and is a beautiful place to discover or rediscover nature's gifts to us. Take a hike through the more than 30 acres of dedicated nature preserve to clear your mind and release stress. Learn more about the history of the Mary Gray Bird Sanctuary in one of our recent blogs.     

Visit Whitewater Valley Arts Association in Connersville's Historic Downtown

Whether we are consuming or creating art, there is so much evidence that it is good for our mental and emotional health. The sidewalks are finally finished and ready for you to take a trip to Connersville's Historic Downtown, where you can check out the art at Whitewater Valley Arts Association. When you're finished admiring our local artists' work, sit and relax at the Oasis, or drop by to see us at the Fayette Community Foundation office. We love to have visitors!  

Enjoy The Covered Bridge At Roberts Park

What's another unique asset to Fayette County that's perfect for resting and relaxing?  Try sitting in the shade near the covered bridge found in Roberts Park. We know what you're thinking; we are not allowed to walk through the bridge! That's true. However, we still encourage you to revisit places you have been to many times and take a minute to enjoy the scenery, even if it's from afar in the shade.
We All Care for Our Community in Our Own Way
We firmly believe that caring for your community manifests out of self-care. Everyone is doing something different to benefit our community. Some people donate their money, while others give their time or talents through volunteerism or attending events.   
That is what a community is all about, each person extending their unique talents and resources to impact the community. As a member of the community, it is essential that you are taking care of yourself as well as others. We appreciate everyone who takes time out of their day to care for the community, but we encourage you to make sure you are also caring for yourself.    
If you are interested in learning more about the Fayette Community Foundation, follow us on Facebook or Instagram, sign up for our monthly newsletter or read more of our blogs.