10.07.21
Fayette Community Foundation Announces The 2022 Lilly Endowment Community Scholarship Finalists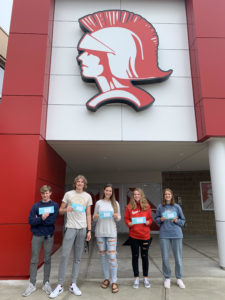 Pictured from left to right: Robert (Wesley) Boyd, Keaton Oakley, Madison Mullins, Morgan Keaffaber, and Abbie Dafler
The Fayette Community Foundation is happy to announce the 2022 Lilly Endowment Community Scholarship finalists: Abbie Dafler, Keaton Oakley, Madison Mullins, Robert (Wesley) Boyd, and Morgan Keaffaber. Each finalist will be participating in the final stages of the application process next week, which consists of an in-person interview and presentation with the FCF Lilly Endowment Community Scholarship committee.
Interviews are an integral part of the application process and allow finalists to talk about their lives and plans for the future. A past recipient of the Lilly Endowment Community Scholarship offered up some helpful advice for interviewees. Gail (Gardiner) Ocaña, the 2007 Lilly Scholarship recipient, said, "My advice for the Lilly scholarship application is to be authentic. Don't restrict yourself to what you think the judges are expecting. You will stand out and be more engaged during your interview by talking about things that are truly important to you. Also, be sure to read and follow the instructions!"
Being awarded the Lilly Endowment Community Scholarship is a great achievement; recipients receive a scholarship for full tuition, associated fees, and a book stipend for any public or private Indiana four-year college or university accredited by the Higher Learning Commission of the North Central Association of Colleges and Schools. Annually there are only 143 scholarships awarded in the state of Indiana. To have applied for the Lilly Endowment Community Scholarship through the Fayette Community Foundation, students needed to have been residents of Fayette County who are graduating from an accredited high school by June 2021 and planning to attend a four-year eligible college or university in Indiana.  Finalists in Fayette County are chosen based on their written application score using the following criteria: academic achievement, extracurricular activities, community engagement, positive recommendations, special circumstances, and essay responses.
Morgan Hamilton, the Fayette Community Foundation's Program Officer, coordinated the application process, and looks forward to sitting in on the interviews next week. "I love setting up this program and learning all of the wonderful things the applicants have accomplished and have set as their future goals. Although this process can be life changing for the recipient, we hope that every applicant benefits in some way whether that be through the development of interviewing skills, presentation skills, or professionalism."
Through the generous support of Lilly Endowment Inc. 40 Fayette County graduates have received this prestigious scholarship. This continued support encourages Fayette County students to continue pursuing their career aspirations through education.
About Fayette Community Foundation
Fayette Community Foundation is inspiring the spirit of philanthropy in Fayette County to enhance the quality of life. Through connections and relationships with donors, the Fayette Community Foundation provides scholarships, grants, and funding to the community. Providing opportunities is how the Foundation supports the growth of Fayette County.