02.19.21
A Guide To Helping Clients with Charitable Endowments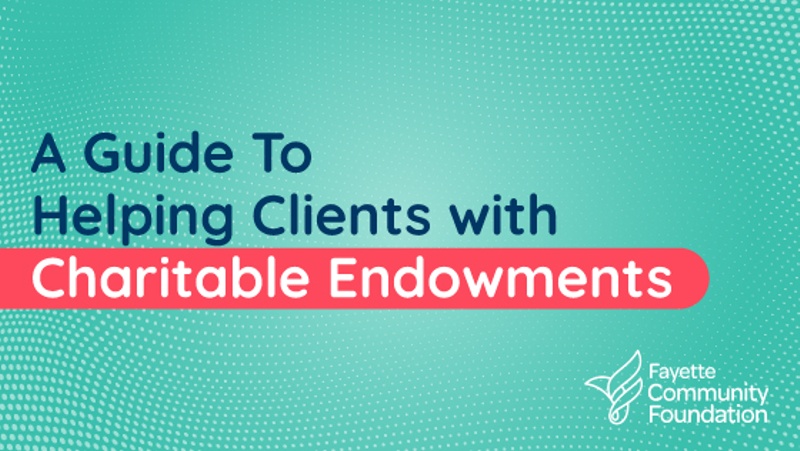 Are you talking to a client that wants to give back to their community? Well, we've got you covered in this article about charitable endowments and giving back locally.  
There is a special bond that donors share with their hometown. Many of them have grown up or lived in the county they are donating to. Their connection to the Fayette County runs deep, often their families have been in the same area for generations. We recognize it is not a small decision to give away funds that families have worked their entire lives to build.  Many donors have their hearts set upon a specific way they want to give back. Guiding them through this process is important. 
A Donors Love for Their Community  
Many of your clients have a deep love and connection to their hometown. They want to see their friends and family to thrive. Those individuals interested in establishing a fund at the Fayette Community Foundation want to know their money is going to make an impact locally.  Some of them will have a specific request, like funding health initiatives or environmental projects.  Others will have no idea what impact they want to have.  There are so many ways to make an impact and so many options for a charitable endowment, it can be overwhelming. We want to help you guide your clients through this process. 
Where To Begin With Your Clients 
When you hear your client say, "I want to make an impact in my local community using some of my funds," it's a great time to assure them they have a variety of options through their local foundation.  Fayette Community Foundation's charitable endowment options include:  
Community Impact: Allows for flexible grant making, providing support for some of the communities' greatest needs.

 

Field of Interest: Funds are distributed to the most appropriate program or charitable recipient within the field designated by the donor. 

 

Designated: Provides grants to specific charitable organizations named by the donor. 

 

Donor-Advised: The client is actively involved in 

the 

an 

advisory capacity for distributions from this fund. 

 

Scholarship: Helps students reach their academic goals. 

 

Operational: Provides support for the operation of the 

foundation

Foundation

.  

 
These options ensure your client can make the impact they want to make when they are ready to make it. 
Memorializing a Donation  
Donors of any kind can pay it forward to Fayette County. These gifts are memorialized in the community, and they make a long-term impact. Donating through the Fayette Community Foundation is more than providing funds. It is a gift to the county and its residents for years to come. Lives are changed through the generosity of all donors. At the Foundation, we are especially grateful when we receive a gift in memory of a loved one. 
One thing the foundation does to honor the memory of cherished loved ones is by adding names to our memorial tree. While these loved ones are no longer with us, their legacy lives on forever in the memory of their family and friends. The memorial tree is a visual reminder of their legacy and love for Fayette County. Take a look at out our memorial tree and related images to see how we are honoring our donors' loved ones.   
With the help of the Fayette Community Foundation, donors have many options for their giving outside a one-time gift. They can also create a legacy through planned giving. Their donations can become a charitable investment and support nonprofits or organizations for generations to come. If your client wishes to become a legacy donor, The Legacy Society is a group of citizens who cherish Fayette County and have made plans to provide the Foundation with a gift in their estate planning. With their permission, your clients' names will be recognized and published. Members of the Legacy Society are sometimes invited to special events and celebrations. This is one way your clients can be recognized during their lifetime for their generosity.   
Interested in learning more about Charitable endowments and how we can serve your clients? Great! Contact us today.