06.07.22
Great People Found in Fayette County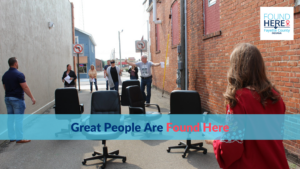 This month as a part of our 2022 Found Here campaign, we are highlighting some wonderful people found in Fayette County. There are many reasons why people choose to work, live, move back, or move to Fayette County.  So, we're sharing the stories of some of the people who found their 'why' in the community. Each of them found their way here through different circumstances, but they were all drawn to one place that felt like home.   
Jobs Are Found in Fayette County
We know we keep saying that jobs are found in Fayette County; we even wrote an entire blog about it! The job you desire may be right here in Fayette County, which is precisely what Abi Roszell experienced when she accepted her position right here at the Fayette Community Foundation. 
Abi Roszell

Abi is originally from Rushville, Indiana, and she later spent two years at Indiana University in Bloomington until she transferred to IUPUI. While Abi doesn't currently live in Fayette County, she works and spends a great deal of time in the community because of her position as Office Coordinator and Data Specialist here at the Fayette Community Foundation.   
We spoke with her about her experience coming to work in Fayette County and her advice to other young professionals looking to work here. Abi has officially been working in Fayette County for a year. She learned about the position at the foundation through a mutual connection. When we asked her for one piece of advice for young professionals, she said, "I can't understate the importance of networking and talking to people. If people know you and your work, they are much more likely to point you in the direction of a good job and recommend you to their own contacts who are hiring."  
Abi's experience is just one example of the available jobs in Fayette County. There are quite a few opportunities at moderate-sized organizations that have a variety of different positions. While the community is small and there are not as many positions as in a large city, there are still opportunities for new grads and young professionals.   
In her previous experience, Abi worked in larger counties, but she has found working in a smaller community quite rewarding. "I vastly prefer the rewarding feeling that comes from working in a smaller, tight-knit community for that community. Fayette County has been welcoming and encouraging as I try to find my place here, which has been a unique experience for me." Abi is only one of the people found in Fayette County doing great work for the community! 
Entrepreneurship Is Found in Fayette County
Not only can you find all kinds of jobs for young professionals, but Fayette County is the perfect place to pursue entrepreneurship. The life you have always dreamed about could be right here in our community! We spoke to Patrick Ripberger, a local entrepreneur, founder and co-owner of Mezzo Solutions.   
Patrick Ripberger
Patrick was born and raised right here in Connersville, Indiana. After graduating, he moved on to other areas of Indiana and Ohio to pursue his passion for helping those around him. Patrick found fulfillment in helping to improve community health, which is one of the things that brought him back to Fayette County.   
Mezzo Solutions, Patrick's company, was founded in 2018 and has continued developing and growing for the past four years. They work closely with partners in Fayette County to find ways to make wellness simpler for residents. "This includes assistance with the Drug-Free Communities initiative focused on finding local solutions to help reduce substance use. We also support the Fayette County Head Start program by providing behavioral health support. In addition, our company offers mental health workshops for organizations and online wellness offerings through our Feel-Good Portal."  
The more time Patrick spends in his hometown, the more passionate people he meets. Patrick said, "One of the best things about Fayette County is the number of "Doers" that are committed to showing up to help their community." Which is one of the reasons that Fayette County is the perfect place to grow a business. There are so many opportunities available for new companies in Fayette County. Get more information about entrepreneurship in Fayette County. 
Purpose Is Found in Fayette County 
We talked to Abi and Patrick about jobs and entrepreneurship, but what is found in Fayette County for those who weren't brought here by a job or building a business? Sometimes life works out so that we end up somewhere we could have never imagined. We spoke to Sharon McQueen about what brought her to Fayette County.   
Sharon McQueen 

Sharon was originally from Alabama, but eleven years ago, she moved to Indiana to provide a support system to her daughter and family. Shortly before coming to Indiana, Sharon's husband passed away. She found a house in Connersville and moved to a brand-new town by herself. When Sharon first moved to Fayette County, "I knew no one! I decided that I would join some organizations that interested me so I would do things I enjoyed and meet friends."  
She joined multiple clubs that she found exciting and met some fantastic people along the way. Sharon spends a lot of her time painting at the Whitewater Valley Arts Association and walking at the Mary Gray Bird Sanctuary and Shrader-Weaver Woods . If you are interested in more things to do in Fayette County, check out our recent article about the great things found in Fayette County.   
Sharon is now a leader and advocate in the community. She is the Director of the Whitewater Valley Arts Association, Executive Director of Discover Connersville, Secretary and Treasurer of Historic Preservation Commission, and on the board of the Urban Enterprise Association, and that is only to name a few. To Sharon, the best thing you can find in Fayette County are the people! That is why she pours so much of her time into giving back to the community that welcomed her with open arms.   
The Greatest Thing About Our Community Are the People Found in Fayette County
We spoke with a young professional who works here, an entrepreneur trying to make a difference in his hometown, and a resident who found Fayette County later in life and made it her home. The people who live and work in Fayette County make the community special. The things to do here are just the cherry on top.   
Get More Information 
You may be wondering why the local foundation is writing or talking about the people found in Fayette County. It's simple; we are dedicated to investing in and supporting our residents from cradle to career by connecting donors and nonprofit agencies. We help strengthen nonprofit agencies to better respond to community needs with financial support and capacity-building programs by providing grants from our unrestricted endowment and discretionary funds as well as from donor-advised funds.   
If you are looking for more information about the Fayette Community Foundation, check out our blog. We have dedicated this entire year to highlighting things found here in Fayette County. If you want to stay updated on everything found in Fayette County, sign up for our nonprofit newsletter.