05.11.22
Things Found In Fayette County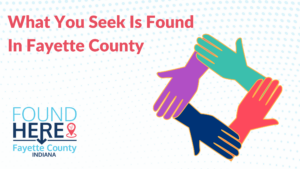 It's official! We are launching our year-long Found Here in Fayette County campaign. In 2022, and particularly his month, we are highlighting all of the things found in Fayette County. When it comes to looking for a place to relocate or trying to find new fun things in your hometown, we have gathered all the great things found in Fayette County.   
Everything You Need Is In Fayette County  
Fayette County is full of exciting opportunities and activities. Whether you are considering relocating to East Central Indiana or you are a lifelong resident, there might be something new for you to consider. The great thing about Fayette County is that it allows you to enjoy the small-town feel without being far removed from popular retail and chain restaurants. Keep reading to learn more about the things found in Fayette County.   
Recreation
For people who enjoy recreational activities, especially outdoor ones, there are plenty of things to do in Fayette County. The beautiful outdoors are calling, so get outside for a game of basketball, tennis, disc golf, volleyball, or pickleball. Not only does Fayette County have courts for pick-up games of basketball, tennis, and volleyball, but we also have great sports programs. Sports are an excellent way for kids to make friends and build teamwork skills which is why it is so important that we have great coaches and programs.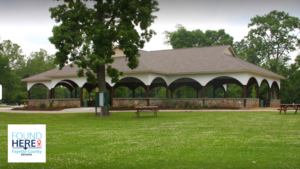 Sports aren't the only recreational activities that you will find here. You can also enjoy other benefits of our large city park:   
But wait, there are more things found in Fayette County! You can also enjoy a beautiful nature walk at the Mary Gray Bird Sanctuary. You can take a hike on one of their unforgettable hiking trails, or if you have an event coming up, you can rent the Markle Barn, Brooks Hall or surrounding grounds.   
Some other recreational activities you could consider are taking a train ride on the Whitewater Valley Railroad or knocking down a couple of pins at Plaza Lanes Bowling Alley (recent winner of the Chamber of Commerce's Small Business of the Year award). Find some activities you enjoy right here in Fayette County.   
Low Cost of Living 
Many people have been considering moving to a more affordable area in the last couple of years. Housing is every family's number one expense, which is why it is such a benefit to find beautiful houses for less money. Fayette County boasts a wide variety of architecture, from country farmhouses to 19th-century Victorian mansions.   
While no house would be considered inexpensive, even in East Central Indiana, it is considerably cheaper to live in Fayette County than in other more populated regions. We have many great agents who would love to help you find a home! Check out the available houses and real estate agencies in Fayette County.  
Houses on the Market:  
Some Real Estate Businesses Serving Fayette County: 
And many others! 
Hobbies and Pursuits 
Are you interested in learning a new hobby or improving an old one? Fayette County has many activities for new and seasoned hobbyists alike. The Whitewater Valley Arts Association offers classes for woodcarving, quilting, and painting. They also have "Do Your Own Thing Monday," where you can come to explore different art mediums. All classes welcome those who want to improve their skills and those who want to show off their talents!  
If you are interested in a pottery class for yourself or your kids, check out Act 3 Pottery. They offer pottery classes for adults on Wednesday nights. Coming up in June and July, you can enroll your kids in the Act 3 Pottery's Kids Summer Camp for youth ages 8-15.   
Fun Local Events 
Here in Fayette County, we have activities you can enjoy all the time and crowd-pleasing events that many people in the community anticipate all year! Including various local nonprofit events like our own winter event, Candy Canes and Cocoa.   
One of our largest events is the oldest free fair in Indiana, the Fayette County Free Fair. Entrance to the fair is completely free for all guests. That gives you the chance to buy some delicious fair food and look at the cute 4-H animals. Wristbands to ride the carnival rides cost money, but make sure to bring your entire family out to the half-off wristband night! For more details, make sure to follow the Fayette County Free Fair Facebook page.   
Also, back for Year 2 is the Celebration in the Ville festival on Saturday, May 14th, providing a full day of activities, vendors, and entertainment. You can find more information about the festival at the Whitewater Valley Festivals & Events page on Facebook.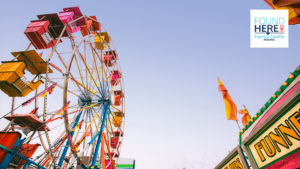 Education 
Events, recreation and hobbies aren't the only things found in Fayette County. Fayette County has several educational opportunities for children and adults alike. There are five public elementary schools located throughout the county, Eastview Elementary, Everton Elementary, Fayette Central Elementary, Frazee Elementary and Grandview Elementary. Each elementary school feeds into Connersville Middle School and then High School. The Fayette County School Corporation offers high-quality education and programs to more than 3,000 students.  
Fayette County also has multiple opportunities for additional learning for adults. The Whitewater Career Center helps adult students prepare for their high school equivalency exam and gives them the tools they need to find a job or career. They also have programs for high school graduates that range from automotive to cosmetology. These classes allow students to get certificates while getting hands-on experience.   
In addition to public education offerings, Fayette County is also home to St. Gabriel Catholic School serving student in Pre-K-6th grade as well as Community Christian School serving students in K-12th grade.  
Another educational opportunity for adults and youth is Purdue Extension. They provide science-based research, local programming and education resources. The focus of Purdue Extension includes: 
4-H Youth Development

 

Agricultural and Natural Resources

 

Health and Human Science

 

Nutrition Education Program and Community Development

 
If you want to learn more about other opportunities available in Fayette County, check out our recent article about jobs and entrepreneurship.   
Get More Information 
You may be wondering why the local foundation is writing or talking about the things found in Fayette County. It's simple; we are dedicated to investing in and supporting our residents from cradle to career by connecting donors and nonprofit agencies. We help strengthen nonprofit agencies to better respond to community needs with financial support and capacity-building programs by providing grants from our unrestricted endowment and discretionary funds as well as from donor-advised funds.     
If you are looking for more information about the Fayette Community Foundation, check out our blog. We have dedicated this entire year to highlighting things found here in Fayette County. If you want to stay updated on everything found in Fayette County, sign up for our nonprofit newsletter.