01.21.21
Setting Up an Endowed Scholarship Fund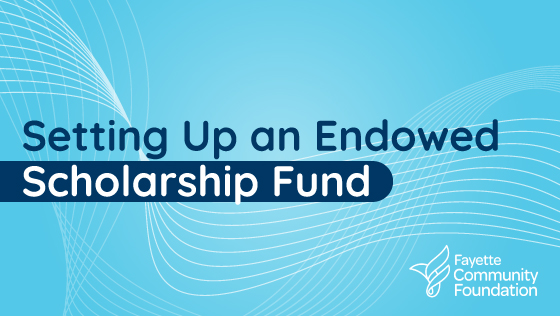 As a Financial Advisor, CPA or Attorney you may have a client interested in setting up an endowed scholarship fund, but it is only one of many ways to give back to the Fayette County community.  Let's talk about some of the considerations.   
At the Fayette Community Foundation, we understand that as a referral partner you are discussing sensitive subjects. Assisting in estate planning is not an easy process. There are so many suggestions and options you can present to a family or client. We want to make sure you have all the information you need to assist your clients, especially when it comes to charitable giving and investments.  
Key Things
to Know About Scholarships
Our referral partners are key to ensuring the Fayette Community Foundation can continue to provide support to our community. We want you to have all the best information available to assist your clients. If you have specific questions related to the Fayette Community Foundation call the Executive Director, Alexandra Pflug, at 765-827-9966. If one of your clients is interested in setting up a scholarship fund through the Fayette Community Foundation, here is some information you can provide. 
Talking Points
to
Use
When Discussing
Establishing
an
Endowed
Scholarship Fund
Scholarships are a thoughtful way to impact your community for years to come. You or your family members can arrange a scholarship by either a gift or bequest. When considering a scholarship as a charitable investment, the first thing you must consider is the size of the scholarship you would like to give each year. If you would like Fayette Community Foundation to oversee a scholarship on your behalf this requires a minimum of $10,000. The minimum amount increases with additional criteria. It is important to understand that a $25,000 scholarship fund produces a $1,000 scholarship every year. A charitable investment of $10,000 will result in a lower yearly amount for scholarship recipients.  
Scholarships provide opportunities for students to pursue their future aspirations. They continue to have a considerable influence on the community for years to come. Keep in mind these types of charitable endowments do require a large sum of money to be invested at the start. Scholarships are a great way to positively change Connersville and the Fayette County Community. But there are a number of other giving options to consider. 
Many clients want to change lives through scholarships, but here are a few other options your clients can consider.  
Other Giving Options
Endowing a scholarship is one of the many ways clients can help strengthen our community through the Fayette Community Foundation. Some other options for charitable investments are:  
Community

IMPACT

 

Field of Interest Endowment Funds

 

Designated Funds

 

Donor-

A

dvised Funds

 

Operational Endowment Funds

 

Agency Endowment Funds

 
For additional information click here. Each of these are great alternatives to scholarships.  With your help as a referral partner, we can ensure your clients' donations make a difference in the community, and your clients can trust the Fayette Community Foundation to respect all of their philanthropic wishes.  
All Gifts Make
a
Difference
We know that each of your clients wants their donations to change lives in their community. It is important for them to know they are not giving to the Fayette Community Foundation. Instead, they are giving through us. We are the facilitator that makes giving easy. We work every day to influence the community through the generosity of our donors. By strengthening and building up our community we can contribute to the development of a better quality of life and more meaningful opportunities for generations to come.