07.02.21
Benefits of Recurring Giving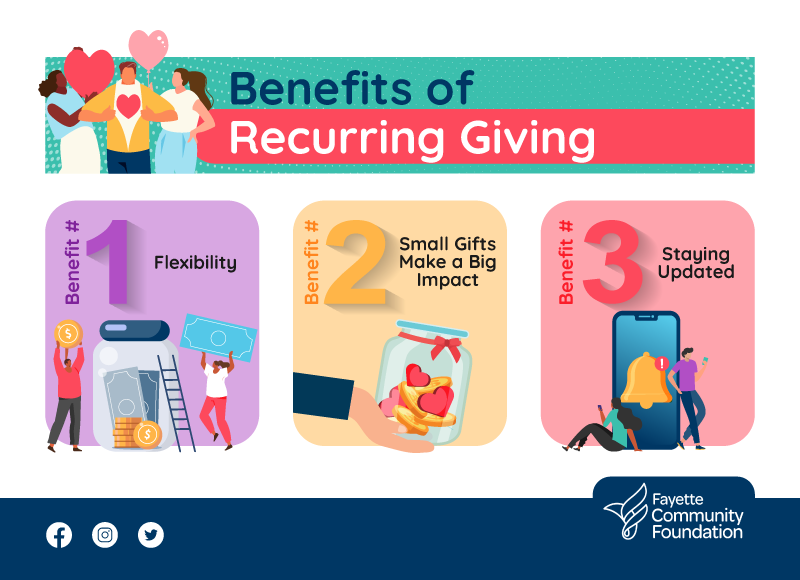 At the Fayette Community Foundation, we understand that it is essential to grow and evolve. Each generation brings different values and goals. In the past mail-in donations were how people often chose to donate, sometimes on a regular basis, and then the internet brought about online giving. Now we are offering something that is a combination of the two. Fayette Community Foundation now offers recurring giving.   
Now you are probably asking yourself, what is recurring giving? The simplest way to describe it is that it's like a philanthropy subscription. Similar to Netflix or Hulu subscriptions, a recurring donation is a scheduled deduction from your bank account that repeats regularly. But, unlike subscriptions, your donation is not purchasing another month of unlimited access to your favorite television series. Instead, your money is going right into your community.    
Recurring Giving Offers Flexibility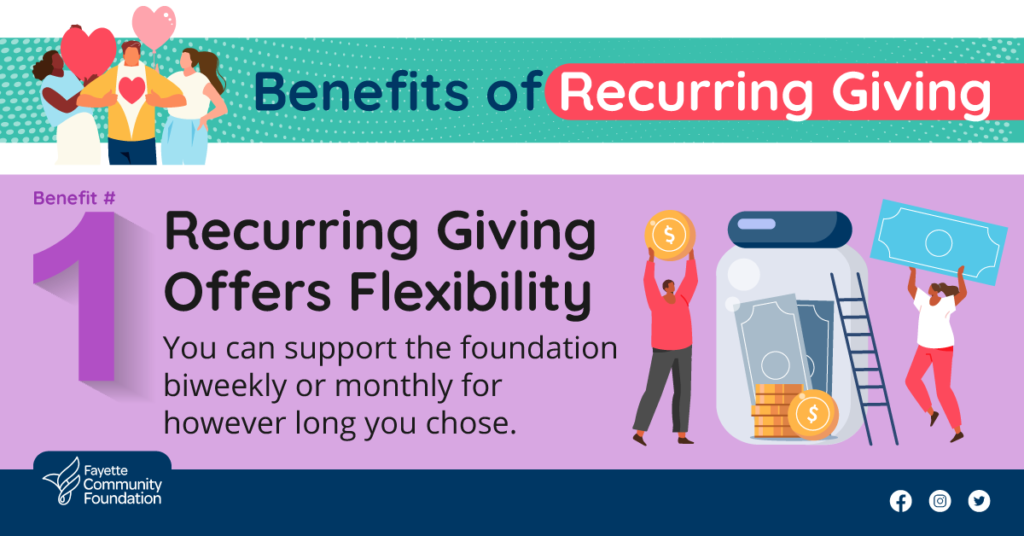 While we like to compare recurring giving to subscriptions, in reality, you have a lot more flexibility with recurring giving. We use PayPal to set up recurring giving. This platform allows you to schedule your gifts for the most convenient times, such as biweekly or monthly. Recurring giving will enable you to give in small increments throughout the year.    
Your tax receipt for recurring gifts will function a little differently than one-time donations. After setting up your recurring gift, we will keep track of your total giving for the year. At the beginning of a new year, the Foundation will send you a tax receipt with the total amount given in the past year from recurring gifts. You can use this receipt when you file your annual tax returns. For questions about tax deductions on charitable donations, please speak with your tax preparer.  
It is hard to beat the convenience of recurring giving. No longer do you have to remember to write a check a couple of times a year or go online to give each month. Instead, you can positively impact your community without a second thought. So instead of subscribing to a third streaming service or an Ipsy box, consider how you can give back to Fayette County through recurring giving. You may think only people who have thousands of dollars to donate can make a real impact. We are here to tell you that is not true. Even small gifts make a significant impact over time! 
Small Gifts Make a Big Impact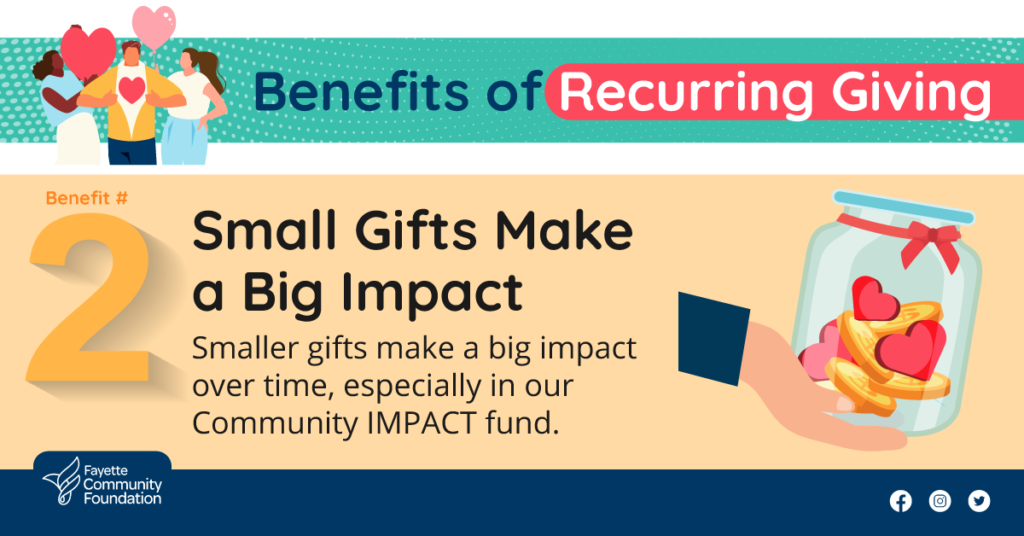 How big of an impact can your recurring gift make over time? Well, we did some quick math for you. If you were to give $50 every month for five years, you would invest $3,000 back into our community! Let's suppose these recurring gifts were put into our Community IMPACT fund and combined with other people's donations. Our Community IMPACT Fund allows us to provide flexible grants to community organizations. Your contributions can also be placed into other existing endowments. Do you have things you are passionate about? Check out our entire list of endowments.   
We know that times are changing, and the ways people give are changing as well. That is why we are sensitive to the needs of our donors. Every donation we receive here at the Fayette Community Foundation is a gift. No matter the size, the intentions are often the same. Each of our donors wants to see Fayette County flourish for many generations to come. You can be a part of that impact with something as small as $20 every two weeks. Don't doubt the impact that you can have! As we like to say around here, we are better together. Your funds plus funds from other donors can make a significant impact when added together.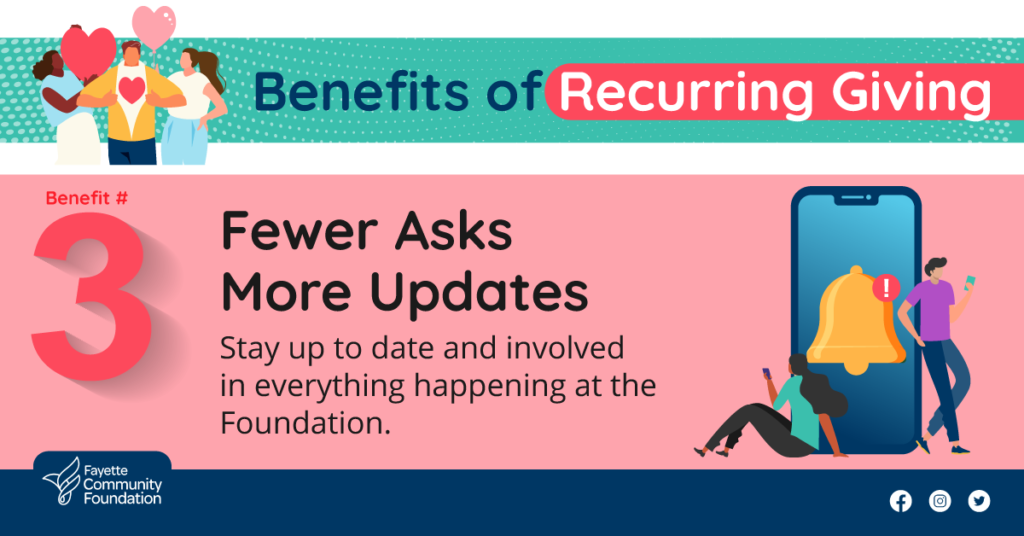 Not only can you have an impact on the community, but you can also stay updated on everything happening here at the foundation. We want each of our donors to be updated on new endowments, events taking place, grant recipients, and so much more.  In other words, we want you to know how you are making an impact locally. 
Donor fatigue is a real issue, and in our opinion, that is one of the most significant benefits of recurring giving. Instead of asking for support, we can keep you updated. We do this through social media, donor emails, and quarterly thank you cards. Each of your gifts is important to us, and we want you to see the impact it is having on the community.
How Can You Get Started?
Setting up recurring giving is easy. All you need to do is follow our donation link and choose your frequency, biweekly or monthly. After that, you need to add your information, and you will be all set to begin your recurring giving. Do you have more specific questions? Give us a call or send us an email, and we will answer each of your questions!  
Do you want to learn more about the Foundation before you give? We have a few ways to get started: sign up for our email to get monthly updates, follow us on social media, or check out our blog for all of our most recent posts and information.