06.23.21
Community IMPACT Fund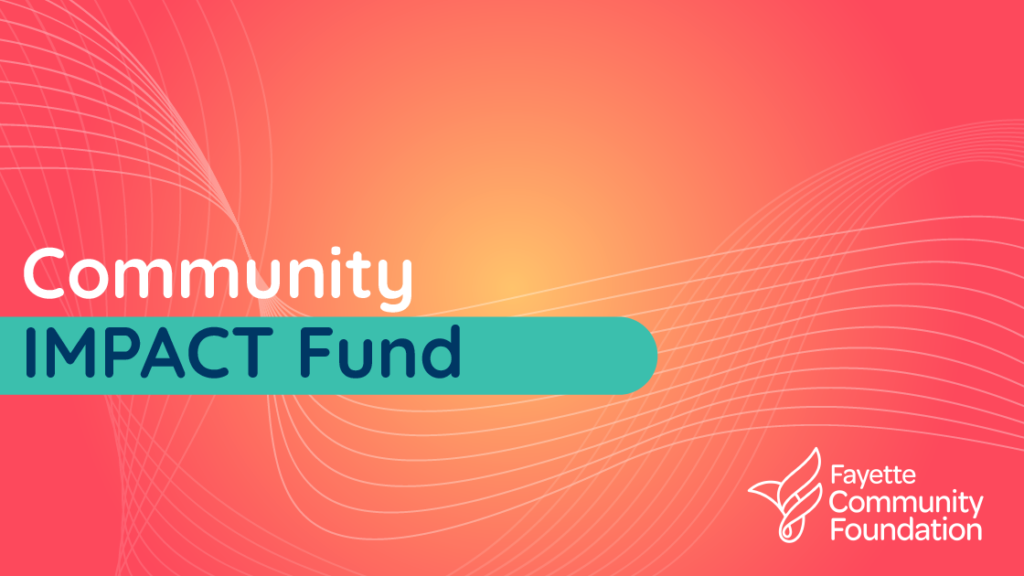 How much do you know about our Community IMPACT fund? Many people think that this is just a typical fund that pays out money each year to recipients, but the Community IMPACT fund does so much more than that. The funds available in this type of endowment are unrestricted, which makes it possible for the Fayette Community Foundation to do flexible grant-making. 
Unrestricted Funds 
While restricted funds have an intended recipient or purpose, unrestricted funds are flexible, which means that they are adjustable to the community's needs. One of the easiest ways for the Fayette Community Foundation to enhance the community is through unrestricted funds. These allow us to create flexible grants that can support some of the community's greatest needs. All of the money paid out from the Community IMPACT fund goes right back into the community.  
COVID-19 is an excellent example of why donations to our Community IMPACT fund are so important. COVID-19 was an unexpected event that no one predicted. The flexibility of unrestricted funds allow community foundations like us to pivot to  to match what is happening right here in our community.   
2020 Cycle 2 
Grants
Not every organization in the community receives designated payout funds, so flexible grant-making gives us the ability to also fund charitable organizations and projects that do not receive annual payouts. The Community IMPACT fund is an asset to our entire community and allows us to address unforeseen circumstances and advance new opportunities.   
For our Grant Cycle II, we were honored to give grants to five well deserving organizations.  Organizations that received funding sourced from our Community IMPACT fund this year were:   
Alquina Blue Arrows Park awarded $2,000;

 

Creative Steps Learning Center awarded $10,000;

 

Fayette County Community Voices awarded $2,000;

 

Fayette County 911 awarded $4,500; 

 

Whitewater Career Center awarded $3,454. 

 
After a tough year, these funds are a "sigh of relief, and a breath of fresh air all wrapped into one. This grant money will serve as a dual purpose, meaning we as an agency, can continue to protect and continue to keep the agencies our dept serves, as well as give our community the response time needed for all emergencies," stated Kelly VanMeter, Director of Fayette County 911 Center.   
The Fayette Community Foundation offers two grant cycles each year. Nonprofits must apply for the grant and go through a review and site-visit process led by the grant committee, a group of community and FCF board members.  
Small Donations Make a Big Impact 
These grants make a significant impact on our community. It's a common misconception that people think because they cannot give a large amount of money, they cannot donate to the Foundation. That is untrue. Small gifts make a significant impact, especially when they are given to an existing endowed fund like Community IMPACT. Entrusting your gift of funds to the Foundation means that it will always go back into the community. Every contribution to our unrestricted Community IMPACT fund helps it grow and increases the available payouts to our grant recipients as the years go by.  
Donations to our Community IMPACT fund are as essential to Fayette County as all other endowments because it allows us to meet specific community needs as they arise. Brayton Johns, one of Alquina Blue Arrows Park board members, said, "The grant from Fayette Community Foundation means so much for the future of Alquina Blue Arrows Park. We are excited to use these funds toward work on a bird, butterfly, and bee habitat that not only improves the look and natural sustainability of our park but also adds an educational element and encourages ownership by community members."  
Recurring Gifts 
Donations into a larger endowment increase the percentage paid out or the amount of grants received, but single one-time donations are not the only way our supporters can give.  We are now offering recurring giving as an option on our website. Recurring giving is like a Netflix or Hulu subscription. Unlike a subscription, you have complete control over your monthly donation. You can choose the amount and the date. When scheduling a gift, you are able to select a one-time gift or set up a recurring gift that occurs bi-weekly or monthly. This is perfect for those who like to have the peace of mind that their donation comes out on the same day they receive their paycheck. We want to make the donation process as simple as possible for each of our donors.  
If you want to donate to the Fayette Community Foundation but don't have a specific endowment in mind, the Community IMPACT fund could be the perfect solution. This is a way for your donation to make a big difference in Fayette County. If you are interested in learning more about recurring giving, visit this link or contact our office with questions (765-827-9966).  
Grant Cycle Applications 
If you are a part of a Fayette County organization seeking grants, grant funding from our Community IMPACT fund may be a great option.   
The Fayette Community Foundation chooses the organizations with the strongest applications to receive grants. All eligible applicants are encouraged to apply for these grants during an open grant cycle. If you are interested in applying for a grant, visit our website for more information.