02.27.23
Better Together: Scholarship Season in Fayette County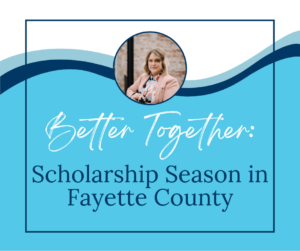 Higher education holds great value for our community – whether that's university, college, or technical school. We see the value in education every single day through teachers, physicians, mechanics, HVAC technicians, and more. Many of the roles that need to be filled in Fayette County require education beyond the high school diploma, but often the price tag is intimidating for young people. Fortunately, some wise folks in our history saw the value in both continued education and the youth of Fayette County, and so they set up scholarships to help them on their way to achieving their goals.
The Fayette Community Foundation is an administrator of many of these local scholarships, so each year I get to witness the flurry of excitement as high school seniors apply and prepare to head off to school. It's a proud and sad moment for me because, like other parents, I want our seniors to spread their wings, but I know that not all of them will return to establish roots in Fayette County. It's a fact of life: they have to leave the nest, but we still hope they'll return and thrive here.
Despite the lack of higher education opportunities in our own county, the scholarship founders knew that supporting young students would help establish even stronger ties to the community. These ties – to the sources of their scholarship, to their families, to the place that feels familiar – help call our graduates back home once they've achieved degrees and certifications. This investment in education brings talent, drive, and creativity back to our community. The Fayette Community Foundation is proud to support this process each year.
Information for applicants
We know there's a lot going on at this time for our high school seniors, so we try to make this process as simple as possible. Scholarship applications are currently live and due on March 7, 2023. To access the application, visit givetofcf.com and click on "Scholarships." An online portal will guide you through the process.
All applicants for traditional scholarships must have applied and been accepted to an accredited university, college, or technical school; have a 3.0 or higher GPA; and be a graduating senior of Connersville High School. Individual scholarships will have additional requirements that you must meet, like being an athlete of a particular sport, pursuing a particular field of study, living in a certain community, or participating in programs, like 4-H. We strongly recommend checking the Foundation's Facebook page for our scholarship application tips to help students get started!
Announcements for traditional scholarship recipients will be made at Connersville High School's Senior Scholarship Night in May. We look forward to celebrating with our scholarship recipients and wishing them well as they chase their dreams.
Scholarship founders
While we're celebrating our soon-to-be graduating seniors, I would like to take time to honor our scholarship founders and the people who contribute to these funds so that they can continue to grow and provide opportunities to Fayette County students.
The motivations behind each scholarship are as unique as the scholarships themselves. Some families started scholarships to honor a lost loved one; groups like graduating classes and community groups and club created their scholarships to give back to the community; and others began scholarships to foster interest in specific career opportunities that they feel Fayette County needs. At the heart of all these reasons why, we see an intense dedication to our community, our youth, and the future of Fayette County. For that, I am incredibly grateful.
You can join them in serving our community. You, your family, or your organization can set up a scholarship that supports students in a way that you find meaningful – or fulfills a need you've recognized in the community. If you'd like to donate, but don't have a particular goal in mind, you're welcome to contribute to existing funds, like the Fayette Community Foundation Scholarship, to help them grow and support more students in the future. To learn more, give us a call at (765) 827-9966 or email info@givetofcf.com.
P.S. If you know of any high school students planning to further their education, let them know about these scholarship opportunities.
-Alexandra Pflug, Executive Director and CEO, Fayette Community Foundation