05.28.21
How Endowments Work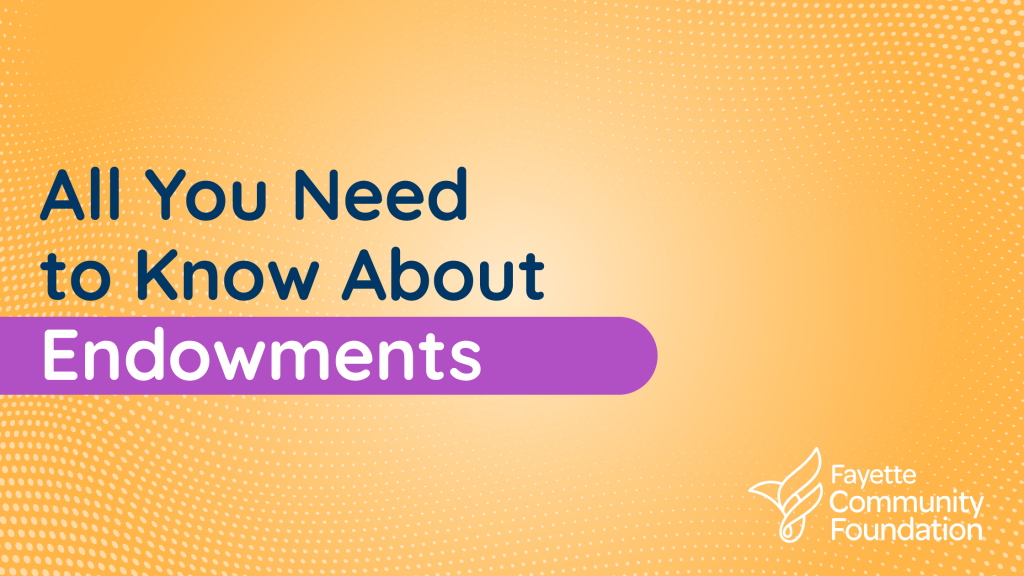 You may already know that our donors love Fayette County and all the people here that make us special. They've generously donated so that our community can thrive for generations to come. There are two ways you can help Fayette County right now through endowments.  
How Endowments Work
Endowments are made up of money or other valuable assets that have been donated to the Fayette Community Foundation. These could be bonds and stock transfers, cash, charitable trusts, gifts of grain, IRAs or RMDs, life insurance policies, mutual funds, real estate, and planned gifts. Donors choose what their gift will do in the community – general community impact, a specific field of interest (like "wildlife"), designate it to a particular charitable organization, create scholarships, or foundation operations to allow us to continue to support donors and the community.  
All endowments have very specific legal structures that provide long-term guidelines on asset allocation in order to yield a targeted return (the annual "payout" to a scholarship recipient or a designated payee) without risk to the bulk of the endowment fund. This allows the majority of the fund to safely exist and grow so that the annual payout can happen every year – forever. That's why donors feel confident knowing that their gift to the Fayette Community Foundation makes an impact on the community now and for generations to come.  
Think of this annual payout like the tip of an iceberg peaking out over the ocean's surface. Paying out a small percentage of the fund's value each year allows charitable organizations to use those dollars annually to support Fayette County while the majority of the iceberg stays safely in the bank to grow without the risk of market fluctuations jeopardizing future annual payouts.  
Apply –
Check
–
In Every Year
Donors want payouts to be made each year. It's the reason why they built the endowment fund: perpetual support for the community. It's our mission to ensure the community knows about opportunities like these so that our donors' precious gifts get to make an impact each year. Do you know a local teacher? Encourage them to speak with their school administrators about their special project or classroom needs and fill out an application for the Fayette County Education Fund. Are you on the board of a local 501(c)(3)? Chat with your fellow board members and nonprofit staff or directors about applying for a grant during our two cycles to help build your own capacity.  
You can also make it a habit to check our website to keep track of this and other opportunities for community funding so you can be certain you are aware of deadlines and qualifications. Visit givetofcf.com. 
Help —
Grow an Endowment
The Fayette Community Foundation manages dozens of endowment funds that support our community in a variety of ways: performing and visual arts; animals and wildlife protection; community projects; health, wellness, and recreation; local organizations; social services; community preservation; faith organizations; education; scholarships; and community impact (where we have the flexibility to address opportunities and community challenges as they arise).  
Starting your own new endowment can be a tall order – but that doesn't mean that you can't join us. You can give to any endowment right now to help it grow and do more good in the community. This allows your gift to stay local and support an endeavor that is important to you. Visit givetofcf.com/endowments to view specific funds and learn how they facilitate important work in our community. You can make an online gift on our website, and can even schedule recurring gifts to be given bi-weekly or monthly so you don't even have to think about it each month! 
Ready to Get Started?
The Fayette Community Foundation is eager to explore the possibilities with you. Give us a call at (765) 827-9966 or email info@givetofcf.com to see how you can make a difference by investing in our community. 
– Alexandra Pflug, Executive Director and CEO, Fayette Community Foundation