07.07.22
Philanthropy is Found Here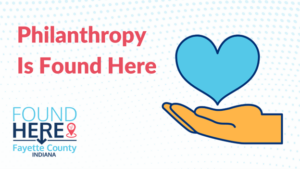 In the last couple of months, we have focused on some of the best things that can be found here. Now we will be highlighting how you can make an impact in Fayette County. We believe that philanthropy is found here! The Fayette Community Foundation has the unique privilege of meeting with all kinds of people who want to improve our community.   
The individuals who walk through our doors want to make a long-lasting impact. As an alternative to donating directly to other nonprofits in the community, donors entrust us with their funds. These funds are invested and make an impact on Fayette County in perpetuity. If we know one thing about charitable investments, it is that they can sometimes be confusing, which is why we write blogs precisely like this. Whether you are a current donor, potential donor, or financial advisor, this blog contains information for you. Keep reading to learn more about how to make an impact in Fayette County.    
Understanding Philanthropy and Charitable Investments
To completely understand giving through the Fayette Community Foundation, you first need to understand the definitions of philanthropy, charitable investments, and endowments. The vocabulary used when discussing investments can feel confusing. Instead of assuming that everyone knows what we are talking about, we believe that a refresher never hurts. So, take a seat and learn more about investment lingo!   
Philanthropy

: the desire to promote the welfare of others, expressed especially by the generous donation of money to good causes. 

 

Charitable Investments: the action or process of investing money with the intention of generating revenue that will then be donated to a charitable organization. 

 

Endowments

: the donation of money or property to a nonprofit organization, which uses the resulting investment income for a specific purpose.

 
Endowments Don't Stop at Scholarships
Did you know that scholarships are not the only option for charitable investments? Many people we speak to are not aware of all the options available regarding charitable investments. There are six types of endowments that you can explore and determine which best fits your situation.   
Community Impact – allows for flexible grant-making and provides support for some of the community's greatest needs.  

Field of Interest – Funds are distributed to the most appropriate program or project within the field designated by the donors. 

Designated – Provides grants to a specific charitable organization named by the donor. 

Donor-Advised – The fund donors are actively involved in the advisory capacity for distribution from this fund. 

Scholarship – Helps eager individuals reach their academic goals. 

Operational – Provides support for the operation of the foundation.
Please note that each of these endowment types has different federal regulations. The Foundation will work to ensure the donors' wishes are honored, but we must align all endowments with federal mandates. Don't worry about getting something wrong. That is why we are here. Our job, along with your financial advisor, is to guide you through the process and ensure that we make you aware of any regulations.   
Let Us Guide on Your Philanthropic Journey
We are here to help you! Whether you are an interested donor or a professional advisor, we have resources for you. We know that to make an impact in Fayette County, we may need to guide you through the process, which is why we work hand in hand with financial advisors and donors. Together we are a team that will make a difference in our community.  
There are many philanthropists in Fayette County, and we want to work with financial advisors in the area to help them advise their clients. We have answers to questions from you and your client. We know that most people need more details before they are ready to meet with us in person or on the phone. That is why we have provided helpful resources; and we are also available for questions. Get in contact with us to learn more! 
Financial Advisors Looking for Additional Information
As a financial advisor, we don't have to tell you that philanthropy lives in Fayette County. You already know! Many families and individuals are interested in making a difference in our community, and it is your job to help make the investment come to life. There can be a little bit of a learning curve for referral partners who don't specialize in charitable giving. Helping your clients profit from investments is one thing, but ensuring their charitable investment will impact the community is another. Here is a list of resources you may find helpful when speaking with your client about endowments. 
The Fayette Community Foundation is here to provide charitable investment options. We help support the community as directed by the donor or provide endowment funds where they are needed most. Endowed funds make a difference in our community. If your client has asked about charitable investment, here is a list of categories the Foundation currently holds funds for that your client can consider: 
Animal and Wildlife  

Arts

Community Projects

Education (Not Scholarships Based)

Early Childhood Literacy

Faith-Based

Family Funds

Health, Wellness and Recreation

Organizations

Preservation

Social Service

Scholarships 

 

Example of Charitable Investments Improving Fayette County
Philanthropy already exists here in Fayette County, and we believe it will continue long into the future. Don't believe us? We have so many examples that we could share, but we chose to highlight one special endowment that impacts our community.  
The Community Impact fund doesn't get the spotlight often, but it has brought so much good to Fayette County. This endowment gives the Fayette Community Foundation flexibility to meet the community needs that our donors could have never foreseen. The increased community need during the initial onset of COVID-19 is a great example. The Community Impact fund is one way to make a positive difference in Fayette County. Learn more details about the Community Impact endowment here.    
Get More Information
Did you know establishing an endowment is not the only way to make an impact in Fayette County? Consider making a one-time or recurring donation toward an existing fund by clicking here. We are dedicated to investing in and supporting our residents from cradle to career by connecting donors and nonprofit agencies. We help strengthen nonprofit agencies to better respond to community needs with financial support and capacity-building programs by providing grants from our unrestricted endowment and discretionary funds as well as from donor-advised funds.     
If you are looking for more information about the Fayette Community Foundation, check out our blog. We have dedicated this entire year to highlighting things found here in Fayette County. If you want to stay updated on everything found in Fayette County, sign up for our nonprofit newsletter.